Pre 2004 NEW ENGLAND SOLO/TWIN
New England SOLO/TWIN Championships

Co-sponsored by Goat Island Yacht Club Ltd. & Newport Yacht Club
Sponsored by the Rhode Island State Yachting Committee
Singlehanded and Doublehanded classes. The courses consist of ocean triangles of from 65-125 miles in length, which begin and end in Narragansett Bay, and which vary for the Monohulls, Multihulls and Cruising Canvas divisions. The SOLO/TWIN is raced annually.
1986 Results: The first year Sponsored by Carlsberg Beer
Three sailors arrived in Newport, RI - Steve Pettengill, Steve Black and Ron Dwelle. All had been involved in shorthanded sailing in the Great Lakes. Together they were surprised that there weren't more shorthanded events in Newport, the only one of note being the Bermuda One-Two, then about 10 years old. The one with the most initiative was Ron, who also worked as Associate Editor of The Practical Sailor. In 1986 Ron, virtually by himself, organized a race that he rather presumptuously called the New England Slo/Twin Championship. With two classes, one singlehanded, one doublehanded the races were pursuit races. The fleet had staggered starts based on PHRF ratings. The 100+ mile course started in Newport Harbor at Ft. Adams, went north around the tip of Conanicut Island to the whistle buoy south of Nomans Land, around Block Island to the finish off Castle Hill.
- Soundings article by Charles Barthold - "The currents around Block Island proved to be the crucial difference between winning and losing in the first runing of teh New England Solo/Twin, a race involving singlehanded and doublehanded boats sailing the same course.
After a reverse-handicap start in Newport, R.I., many of the 14 boats in teh 110 mile race found themselves bunched together at the final turning point, Block Island. There the current can vary considerably, testing navigators as they hug the rocky shore, where the tide is the weakest.
The winning skipper in the solo division, Peter F. McCrea, sailing his Freedom 32, Panacea, tacked close around the west side of the island, successfully avoiding teh current.
""It turned out that those who had tacked very wide of the island got nailed by the current,"" McCrea said. ""That was determined to be the winning edge.""
In the doublehanded division, Stephen Black and Bob Johnstone, aboard a chartered J/35, Hot Entree, successfully used the same tactic.
""We caught the majority of them at Block Island where they were being set back by the fairly strong currents that were coming around the west of the island,"" Black said. ""With Bob's good local knowledge, and some good detailed charts, we short-tacked along the shore right around the island.""
Sponsored by the Goat Island Yacht Club, the race started June 20 and was sailed under a modified Performance Handicap Racing Fleet (PHRF) formula that gave boats with shorter waterlines a slight advantage. The race committee, headed by Ron Dwelle, sent the boats off in reverse order depending on their handicap, which gave the smaller boats a head start.
The advantage the smaller boats were expecting to get didn't turn out to be much as they crossed the line in a light northerly breeze. As the larger boats crossed the line later in the day at their assigned times, a front brought winds of up to 25 knots.
The race committee sent the fleet around Conanicut Island (counter clockwise), around Brenton Reef Tower, to a buoy near Nomans Land southwest of Martha's Vineyard, around Block and back to Newport.
By the time they reached Block during the predawn hours of June 21, the wind had lightened and the fight against the current began.
Although the winning skippers used the same tactics, their backgrounds were considerably different. Black, executive director of the U.S. Yacht Racing Union, was head of the Lake Michigan Singlehanded Society and one of its founders. A wee before the New England Solo/Twin, Black took a third in his division in the lake Michigan Doublehanded Championships sailing aboard his Nelson/Marek 36.
McCrea, on the other hand, is an admitted novice in his first race. Last summer teh Providence, R.I., resident sailed about 900 miles alone along teh coast, but never in a race.
""This was the first time where endurance was a factor and the first time where I was racing, not cruising,"" McCrea said. ""And it was the first time I was in the company of really outstanding singhanders.""
Dwelle said he was pleased with the race, and the Goat Island Yacht Club plans to stage the race again next year, this time on Aug. 9, to avoid conflicting with the Bermuda One-Two, scheduled for June.
Racing Rules
Race Start Times
Race Results: Solo race - 1. PANACEA, Peter McCrea; 2. GREY WOLF, Francis Stokes; 3. SLOOP DU JOUR, Patrick Mouligne; 4. FLYING CIRCUS, Richie Allen; 5. DISCOVERER, Ed Bradbury; 6. LIBERTY, Charlie Carpenter.
Doublehanded race - 1. HOT ENTREE, Stehhen Black, Bob Johnstone; 2. WHIPPER FOUR, Rick Casey, Bob Lanz; 3. BOOGALOO, Tom Gore, Eric Swanson; 4. COSMIC EGG, Richard and Doris Long; 5. OPUS, Bill DiMarco, Warren Hall; 6 WIND CHIME, Mike Mathias, Mike McManus.
1987: Sponsored by Carlsberg Beer
Racing Rules
1987 Solo/Twin Resluts
For the second Solo/Twin in 1987 Ron Dwelle or Steve Black secured a sponsor, Carlsberg Beer. They provided event t-shirts and perpetual trophies and keepers.
The unfairness of teh staggered start became immediately evident as the slower boats started in a very light air and a foul current. Only for the boats that started after teh southwest breeze arrived could one think of it as a successful event.
1988 Results: Sponsored by Carlsberg Beer
Racing Rules
1988 Solo/Twin Results
The third Solo/Twin in 1988 still had Carlsberg as a sponsor but the race was no longer a pursuit race and had eliminated the leg around Conanicut Island. Ron Dwelle went back to Michigan in 1988. George and Mary Beth Pike of the Goat Island Yacht Club became event chairman. In 1992 Goat Island and Newport Yacht Clubs joined forces to run both the Solo/Twin and Bermuda One-Two.
- Newspaper Article - Sebago wins Carlsberg multihull: Newport - "Phil Stegall's 60 ft trimaran, Sebago, streaked over the 200 mile multihull course in 10 hours and 21 minutes and easily captured first place for the multihull division in the Carlsberg Solo-Twin race yesterday.
Sebago, with Steggall and Bill Biewenga aboard, won over a field which included Steve Black's Eagle Premier and Mark Rudiger's Holsten Ocean Surfer, all entries in the Carlsberg Single handed Transatlantic Race.
Leading on corrected time in the monohull division, which sailed a 97 mile course was the Pearson Triton, Good Goose, sailed by Larry Shea and Wayne Tiedeman, which won by eight minutes over the Tarten 38, Curlew, sailed by two Marion, Mass. sailors, Bill Saltonstall and Ed Brainard.
The Goat Island Yacht Club ran the race and presented prizes to the class winners."
Monohull Course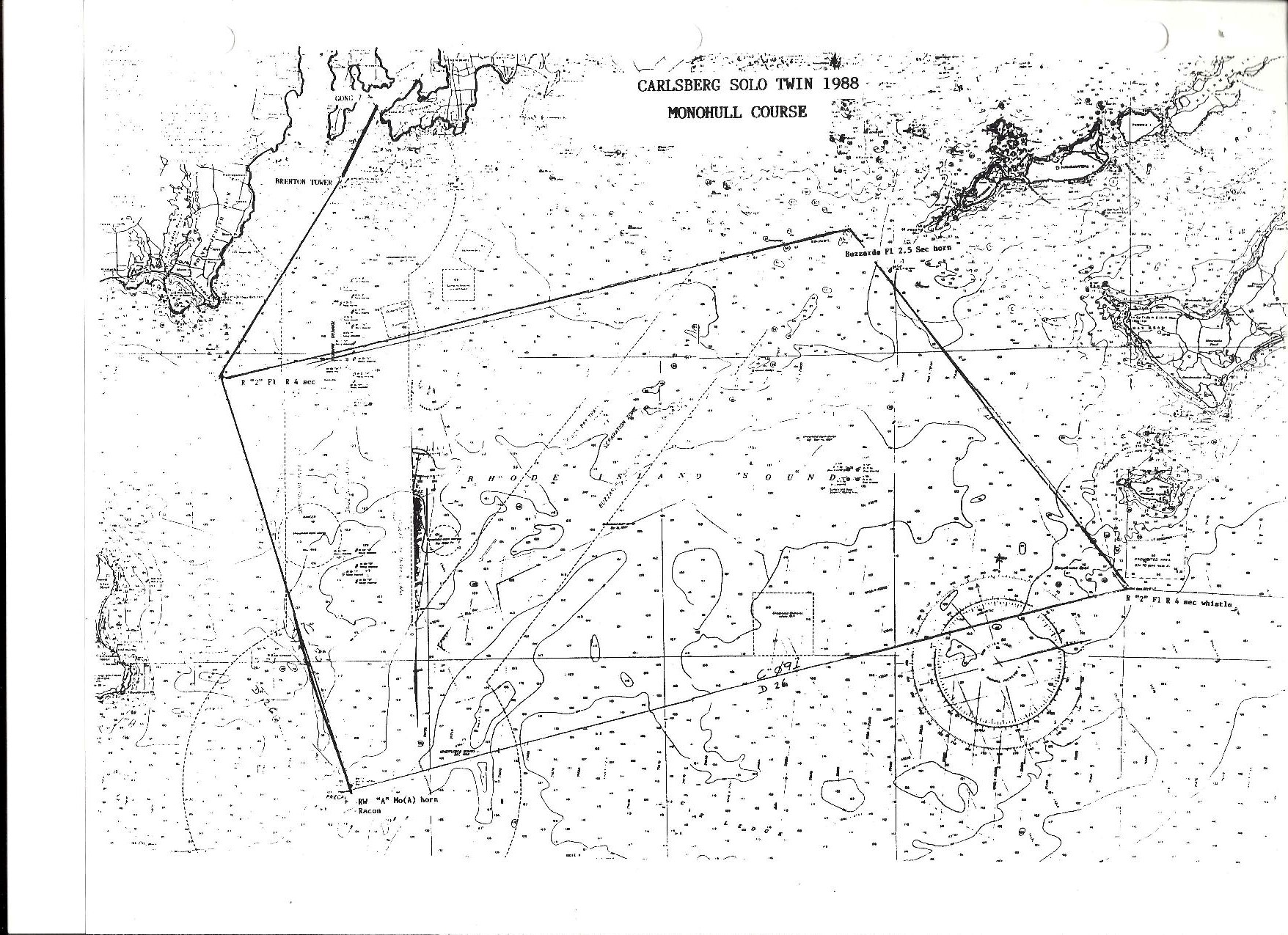 Multihull Course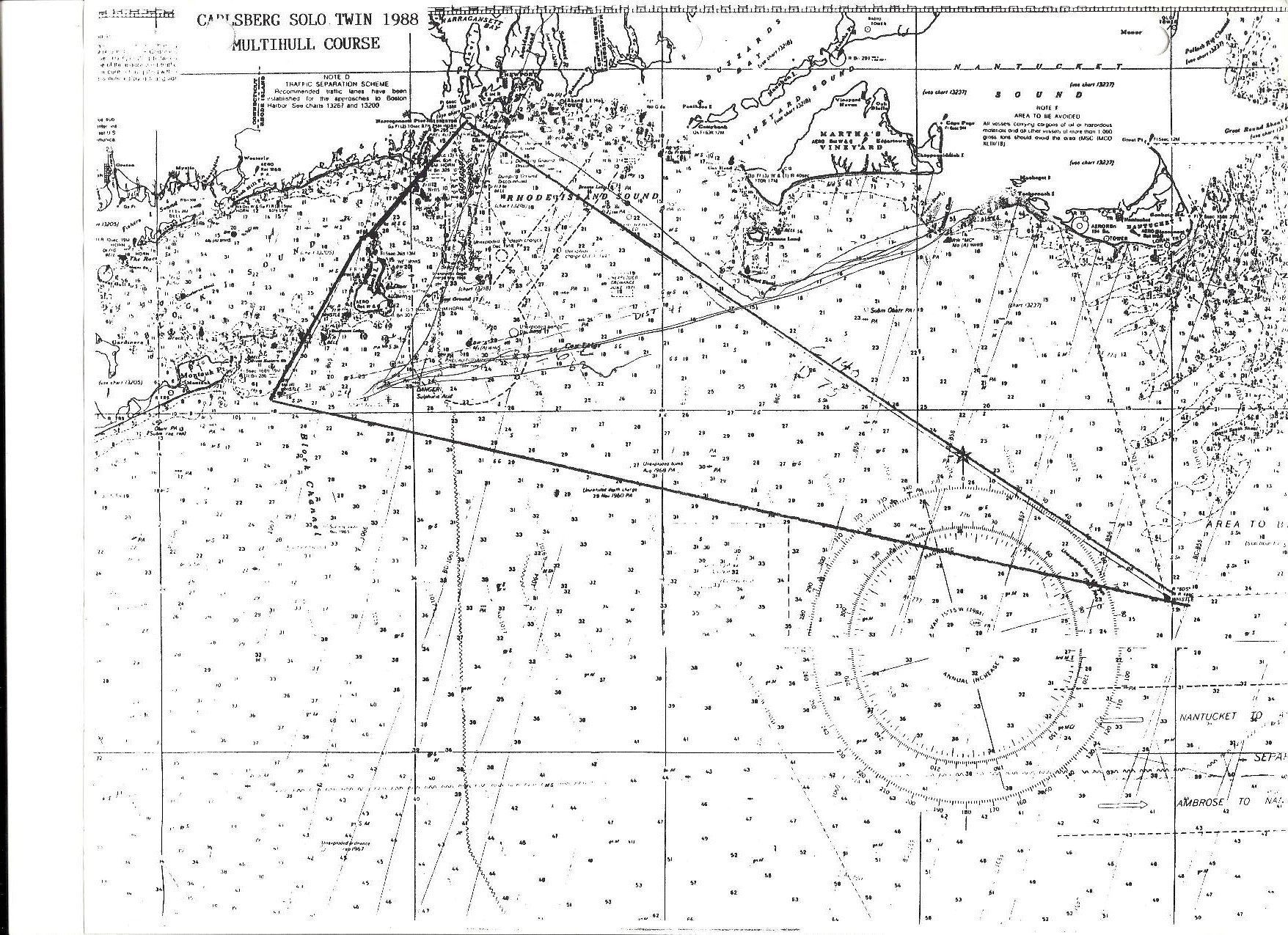 1989:
1989 Solo/Twin Results
1989 Solo/Twin NOR/Application
1989 Solo/Twin Race Information
- Newspaper article in the Providence Journal by Dave Philips: "Forty-three yachts, including eight multihulls, are poised for an early afternoon start today south of Rose Island in the fifth annual New England Solo/Twin race off Newport.
The multihulls are scheduled for a noon start. The doublehanded monohulls, which have been split into two divisions, will go off at 12;30 and the singlehanded monohulls wil go at 12:40.
The entries include the 26 foot multihull, Cornish Meadow, which took part in the last singlehanded transatlantic race to Newport two years ago; and Brigadoon VI, an entry in this year's Newport-to-Bermuda race.
Weather forecasts for today and tomorrow are not encouraging. Winds are expected to be light and competitors couldhave fog to contend with. But they'll have to stick it out. Event chairman Peggy Wood of the Goat Island Yacht Club said yesterday there are no provisions for shortening the courses. The multihulls have to sail approximately 120 miles, heading first to a government mark near Montauk Point, east from there to Nomans Land, then west again back to the Brenton Tower, before heading for the finish off Castle Hill.
The monohulls will go 94 miles leaving Block Island to port, but not going all the way to Montauk. Aside from that, they'll sail the same course the monohulls will be using.
The awards program is scheduled for 5:30 tomorrow under the tent at Goat Island, with Wood and past commodore Peter Hegeman planing to present the prizes.
1990:
1990 Solo/Twin Results
- This race is noted for Ted Singsen falling overboard and was able to get back into the boat however he was inured.
- Newspaper Article - Danish team getting jump: Newport - "Two young Danes, Carsten Steenberg and Eric Quorning, proved themselves to be good promoters, as well as good sailors, by getting the jump on the other boats in their class at the start of the New England Solo/Twin race yesterday.
Quorning's father had built their 26 foot trimaran, Dragon Fly, in Denmark and their main reason for bringing it to this country was to promote it here.
Sailing it in a race, they decided, was teh best possible way to show it off. So last week, when they heard about this race through the New England Multihull Association, they were quick to enter.
Their class was the first of three groups to get a start yesterday, west of Goat Island, so for the first few minutes at least Dragon Fly was out front of everybody, going at her best speed down the east passage, heading for the fog bank just offshore and their first truning mark southwest of Block Island.
Dragon Fly carried the biggest time allowance for any of the eight boats in her class and if the wind didn't blow too hard overnight, the Danish boat could wind up being a winner by the time she completes the 94 mile course.
Forty boats got off yesterday in a 10-12 knot southeasterly breeze and were quickly swallowed up by the fog as soon as they passed Castle Hill. They included eight doublehanded multihulls, 24 doublehanded monohulls, separated into two divisions; and eith singlehanded monohulls, the last to start.
There were four women taking part in the race, two brothers - Rob and Arthur Burke - five father-and-son combinations and one son-father combination - Scott Ferguson and his father George.
Bart Janney of Newport was making his first New England Solo/Twin, with his 13 year old son, Mac, crewing for him.
A few of the yachts in the race had made names for themselves in other races before trying this one.
Cornish Meadow, being sailed in this race by Spencer Merz of Lexington, Mass., and B.J. Watkins, did the last singlehanded translatlantic race. Panacea, one of the entries in the singlehanded monohull division, was first overall in the last Bermuda One-Two race; and Frog Kiss, sailed by Patrick Mouligne of Portsmouth, was first among 16 boats in her class on the singlehanded leg of the 1986 Bermuda One-Two race.
If yesterday's wind held around the course, the faster boats might be back soon after midnight. Others would take their own finish times when they pass Castle Hill and report them to the Goat Island yacht Club's race committee by radio.
Late this afternoon, event chairman Peggy Wood and Peter Hegeman, former commodore of the Goat Island Yacht Club, will be presenting prizes to the first three boats in each class."
- Newspaper Article: Newport - "Panacea, a Freedom 32 skippered by Peter McCrea, took top honors in the singlehanded monohull class at the New England Solo/Twin race Saturday.
Other winners in the race organized and run by the Goat Island yacht Club were Bill McInnis' Samurai, a J-30, in the Division 2 for doublehanded monohulls, Philip Garland's J-24, Salsa, in Division 3 for doublehanded monohulls; and Carsten Steenberg and Erik Quorning's 26 footer, Dragon Fly, in Division 4 for doublehanded monohulls.
Forty boats started the race west of Goat Island Friday and all except one had finihed the course by early the next morning.
McCrea on Panacea reported plenty of light work to windward with frequent sail changes. Then he was hit by a 30 knot squall with heavy rain between 2 and 3 a.m. and heard talk of "blown chutes" around the fleet. McCrea said Panacea's elapsed time of 17 hours and 24 minutes was the fastest she had ever sailed over the course.
The skippers of teh top three boats in each class received prizes from teh Goat Island Yacht Club, presented by the event organizer Peggy Wood and Peter Hegeman, past commodore of teh club."
1991:
1991 Solo/Twin Results
- Excerpt from Newspaper Article from the Providence Journal - The yachts of August converge n Newport - by Dave Philips:
"... will be a gathering south of Rose Island for the fifth annual New England Solo/Twin, a race organized by the Goat Island Yacht Club.
Most of the boats will be racing in the soublehanded monohull class. There are so many of them that regatt charwoman Peggy Wood was considering splitting them into two classes of equal size, according to their PHRF ratings.
As of Friday afternoon there were 10 entries for the singlehanded monohull division and one intrepid sailor, Don Watson, ready to compete in the singlehanded multihull class.
Six of the Solo/Twin sailors: Bob Adams, Murray Danforth, Ray Renaud, Patrick Mouligne, Ted Singsen and Peter McCrea, are veterans of the Bermuda One-Two race. Len Rittenberg of Manassas, BA., a first-time entry in this event, wants todo the Bermuda One-Two race next year.
Some of the yachts in this race, Smiles, Incline, Samurai, Wildfire, Scratch and Banzai are raced regularly during the season with several people aboard. It will be interesting to see how well they can do with one or two.
Most of the yachts will be sailing a 94 mile course, taking them around Block Island, out to Nomans Land and back to the finish off Castle Hill. The multihulls will go to a buoy off Montauk Point, making their race about 30 miles longer.
People who've done this race before will be telling the newcomers to expect anything in the way of weather. There may be one type of weather at the start and something totally different later on.
Just ask the ones who raced last year. They started in a virtual flat calm and within half an hour they were being hit by 40 knot gusts. The heavy weather lasted most of the race and quite a few skippers had to take refuge in Block Island. ..."
1992:
1992 Solo/Twin Results
NOR/Application
Sailing Instructions/Log
- Newspaper article in the Providence Journal August 9, 1992 by Dave Philips - "Manchesters sail Wildfire to Class A win - Newport - Wildfire, a Tripp 37 sailed by Bob and Rob Manchester, was the apparent winner in Class A, the doublehanded monohull class, after many hours of sailing in the wind-starved New England Solo/Twin Championship yesterday.
Sandpiper, co-skippered by Bob Johnstone and Max Williamson, took second place.
Moderation, sailed by Scott and Gregg Ferguson, was third.
Smiles, with Richard Carleton and Lawrence Rutter, was fourth.
Foxtrot with Rod and Jeff Johnstone, was fifth and Banzai, with Russ Cardoza and Tom Pasqual, was sixth.
Halcyon, a Beneteau sailed by Dimitri Antoniadis, had been the only finisher in the monohull solo spinnaker class as of 7 o'clock and it had taken Antoniadis 28 hours and 40 minutes to make it around the 107.2 mile course
The only finisher in the monohull doublehanded cruising class had been Velejar, a J-30 co-skippered by Joe Sousa and Mark Quigley.
Most of the other sailors in the race had dropped out by 7 o'clock last night, frustrated by the lack of wind and strong currents.
""It was a very frustrating race,"" said Peter McCrae, who said he had given up off southwest bell Block Island when the wind died and he found his Freedom 32, Panacea, being swept sideways in the wrong direction past the buoy he'd just rounded.
""It took me 12 hours to get there from Newport and I had to handsteer all the way,"" McCrae said. ""I decided I wsan't going to punish myself for 36 hours to finish the race.
The long course was 107.2 miles but the boats going that way had to sail a much longer distance because they were hard on the wind all the way to Block Island, then hard on the wind all the way from Block Island to Nomans Land.
One of teh larger boats in the fleet reportedly took 14 hours to cover the distance from Block Island to Noman's Land at an average speed of 2.5 knots."
1993:
1993 Solo/Twin Results
1993 Scratch Sheet
1993 Notice Of Race/Appliation
1993 Sailing Insructions/Log
1999:
1999 Solo/Twin Results
1999 Solo/Twin Scratch Sheet
2000:
2000 Solo/Twin Results
2000 Solo/Twin Scratch Sheet
2001:
2001 Solo/Twin Results
2001 Solo/Twin Scratch Sheet
2002:
2002 Solo/Twin Results
2003:
2003 Solo/Twin Results