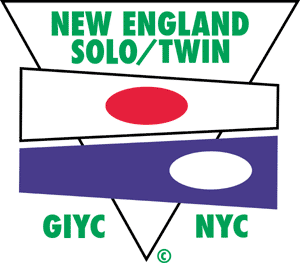 2022 New England SOLO/TWIN Championships
Friday, July 29, 2022, Sponsored by Newport Yacht Club
Singlehanded and Doublehanded classes will start on Friday. The courses consist of ocean triangles of from 65-125 miles in length, which begin and end in Narragansett Bay, and which vary for the Monohulls, Multihulls and Cruising Canvas divisions. The SOLO-TWIN is raced annually.
Registration Thursday 1600-2000
Skipper's Meeting Friday 0900
First Start Friday 1200
Awards Saturday 1700
We are planning on having Registration in person on Thursday before the start and the Skipper's Meeting on Friday 0900 both at the Newport Yacht Club.
2022 Results
DOWNLOADS
2022 Documents: Notice of Race / Safety Check List / Schedule
Sailing Instructions
Race Log
Entrants
Class Scratch Sheet
2022 Results
Results
Mark Roundings 1
Mark Roundings 2
Cliff Mitchell Family Trophy:  
New England ShortHanded Ocean Racing Trophy:  
Summary – 50 boats started, 24 boats finished.  Lots of boats retired due to extremely light winds. The first boat to finish was Alchemist sailed by Ken and Brad Read on Saturday 1211 (just over 24 hours) and the last boat to finish was Momentum sailed by Paul Kanev and Dave Faulders on Saturday at 2006 (almost 32 hours).
7/29 – 
Past Results
Pre 2004 New England Solo/Twin Results
Article Providence Journal 1992 by Dave Philips
Past Event Chairman
1986 – Ron Dwelle
1987 – Ron Dwelle and Steve Black
1988 – George & Mary Beth Pike
1989 – Peggy Wood
1990 – Peggy Wood
1991 – George & Mary Beth Pike
1992-1997 – Geoffrey Spranger
1998 – Joe & Marge Scowcroft
1999 – Geoffrey Spranger
2000-2001 – Clifford Mitchell
2002-current – Roy Guay