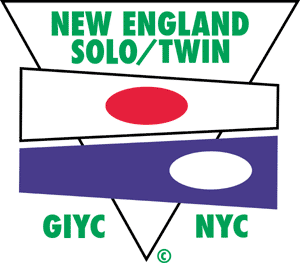 2021 New England SOLO/TWIN Championships
Friday, July 30, 2021, Sponsored by Newport Yacht Club
Singlehanded and Doublehanded classes will start on Friday, July 24. The courses consist of ocean triangles of from 65-125 miles in length, which begin and end in Narragansett Bay, and which vary for the Monohulls, Multihulls and Cruising Canvas divisions. The SOLO-TWIN is raced annually.
Registration Thursday 1600-2000
Skipper's Meeting Friday 0900
First Start Friday 1200
Awards Saturday 1700
Registration is over!
We are planning on conducting the New England Solo/Twin. We may not have a skipper's meeting nor award party (but plan on having awards) but we intend to do the race for those that would like to participate. I will put out the revised documentation real soon now!
2020 Results
DOWNLOADS
2020 Documents: Notice of Race NEW / Safety Check List / Schedule  REVISION 2
Sailing Instructions  –  Amendment 1  –  Amendment 2
Race Log
Entrants 
Class Scratch Sheet
2020 Results
Mark Roundings 1
Mark Roundings 2
Cliff Mitchell Family Trophy:  Alchemist – Ken and Brad Read
New England ShortHanded Ocean Racing Trophy:  Jonathan Bixby on Highlander
Summary – 50 boats started, 24 boats finished.  Lots of boats retired due to extremely light winds. The first boat to finish was Alchemist sailed by Ken and Brad Read on Saturday 1211 (just over 24 hours) and the last boat to finish was Momentum sailed by Paul Kanev and Dave Faulders on Saturday at 2006 (almost 32 hours).
7/25 2006 – Momentum, last boat to finish.
7/25 1702 – Zibure is the first and last Multihull to finish.  He made it more interesting by doing the 93 nm course vs the 77 nm course he was given on the lightest wind Solo/Twin Race in memory!
7/25 1632 – Alchemist 1st boat to finish
7/25 1211 – Alchemist rounded NB buoy on the leg to the finish and Young American rounded Buzzards Tower and Aggressive rounded Gay Head buoy.
7/25 1038 Kitty Haw, Drift Away and Pau Hana have rounded the mark at Gay Head in that order.
7/25 0955 – Vamoose rounded Buzzards Tower.
7/25 0902 Group 5 rounded Buzzards Tower.
7/25 0848 – Byte rounded Buzzards Tower.
7/25 0830 – Seriana called in that they finally rounded the 1st mark SW of Block Island.
7/25 0800 – 24 boats have retired.  This is all the boats that retired: Cepheus, First Light, La Defonce, Low Profile, Samba, Williwaw, Bellatrix, Grimace, Lola, Memory, Vento Solare, Bella, Dune Buggy, Gallop, Sea Gate, Yaquina, Cetacean, WISP, Corsair, Melantho, Blackbird, Flying Fish (again!), Milagro, Skedaddle, Scappare, Warrior 21.
7/25 0730 – Alchemist rounded Buzzards Tower, 2nd mark.
7/24 2117 – SeaJai rounded the first mark.
7/24 1943 – Byte rounded SW Block Island.  Grimace retired. Looks like Cepheus retired.
7/24 1933 – Samba rounded SW Block Island with Vicitan behind him.
7/24 1922 – Sea Gate retired.
7/24 1856 – Pau Hana rounded 1st mark.  Sent me a video of his anemometer spinning around.  I think he is trying to tell me something!
7/24 1800 – La Defonce retired.  Got caught in the wrong place with respect to current.
7/24 1800 – Class 5 is rounding the first mark; Drift Away, Larvik and Whalayed.
7/24 1530 – Samba halfway between Pt Judith and 1BI.  About 5 knots of breeze.
7/24 1300 –And they are off.  All 50 started which is pretty amazing.  Extremely light air but they all got off.  A few boats were over early and had to come back which was torture to see; light winds and fighting the current to come back to the line.
Past Results
Pre 2004 New England Solo/Twin Results
Past Event Chairman
1986 – Ron Dwelle
1987 – Ron Dwelle and Steve Black
1988 – George & Mary Beth Pike
1989 – Peggy Wood
1990 – Peggy Wood
1991 – George & Mary Beth Pike
1992-1997 – Geoffrey Spranger
1998 – Joe & Marge Scowcroft
1999 – Geoffrey Spranger
2000-2001 – Clifford Mitchell
2002-current – Roy Guay