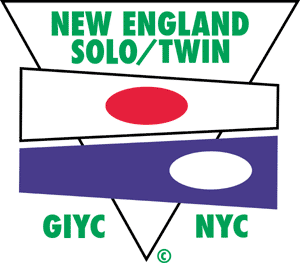 2024 New England SOLO/TWIN Championships
Friday, July 26, 2024, Sponsored by Newport Yacht Club
Singlehanded and Doublehanded classes will start on Friday. The courses consist of ocean triangles of from 65-125 miles in length, which begin and end in Narragansett Bay, and which vary for the Monohulls, Multihulls and Cruising Canvas divisions. The SOLO-TWIN is raced annually.
Registration Thursday 1600-2000
Skipper's Meeting Friday 0900
First Start Friday 1200
Awards Saturday 1700
Registration is over!
2023 Results
OWNLOADS
2023 Documents: Notice of Race / Safety Check List / Schedule
Sailing Instructions
Race Log
Entrants
Class Scratch Sheet
++++++++++++++++++++++++++++
Mark Roundings 1
Mark Roundings 2
Cliff Mitchell Family Trophy:   .Larvik – Kim Andersen & William Beebe
New England ShortHanded Ocean Racing Trophy:  Not awarded in the oddyear.
7/29 – Saturday morning a squall hit the fleet with a peak in the 50s.  See the wind recording from Arkana above. Two boats withdrew due to wind damage to their sails.  Lily Pad had the clew pulled out of the mainsail but was able to continue by reefing the main. The first boat to finish was SeaJai sailed by the son & father team of James Jr. and James Hennigan, sailing the shortest course 77nm, at 3:33 am.  The first boat to finish of the boats sailing the 103nm course was Avalon sailed by Ken Read and Suzy Leech at 7:29 am. The first boat to finish the 93nm course was Sail For ALS sailed by Joe Lark & Alex Bowdler at 6:41 am. The last boat to finish, again, was Windswept sailed by Rick McCally in the Solo Class 5 at 11:25 am however Rick won his class on corrected time.  26 boats finished with 30 boats starting.
Looking at the wind recording from Arkana the fleet had decent wind during the whole race (excluding of course the squall).  The boats rounding the Narraganset Bay entrance buoy ran into very thick fog.
At 5pm we held the Awards with about 50 people participating.
Thanks to the following:
Race Committee Boat: Peter Jencks, Caryn Cummings, Jane & Roger Fontaine, Bill Shea (picture taking), Ted Singsen and Roy Guay.
Duty Desk: Alyce & Bill Croasdale, Rosa Tysor, Pat Clayton, Ted Singsen and Roy Guay.
Food for Breakfast and Awards: Caryn Cummings and Diane Guilllemett.
Staff of the Newport Yacht Club.
7/28 – Leading up to the start was very light winds out of the NW but shifted before the start to SW light with an incoming tide.  We had to share space with several work boats and big trawler all anchored where we normally have our start area.  Oh, and by the way the Folk Festival was starting so there were the contingent of boats off of Fort Adams.  None of it seemed to matter and all the boats started. Some a little later than most. Turbofish was heading from NEB after some late work on the water cooling system and started amongst the Class 3 boats (they are Class 1) and Solstice had problems with their headsail furler and wandered over the line before their start. After fixing the problem they came back and started after the Class 6 start.
Projections are for wind all night for a fairly fast race and Ken Read expects to finish around 2am.
Course assignments:
Classes 1 and 2 on Course A.
Classes 3 and 5 on Course B.
Classes 4 and 6 on Course C.
Past Results
Pre 2004 New England Solo/Twin Results
Article Providence Journal 1992 by Dave Philips
Past Event Chairman
1986 – Ron Dwelle
1987 – Ron Dwelle and Steve Black
1988 – George & Mary Beth Pike
1989 – Peggy Wood
1990 – Peggy Wood
1991 – George & Mary Beth Pike
1992-1997 – Geoffrey Spranger
1998 – Joe & Marge Scowcroft
1999 – Geoffrey Spranger
2000-2001 – Clifford Mitchell
2002-current – Roy Guay