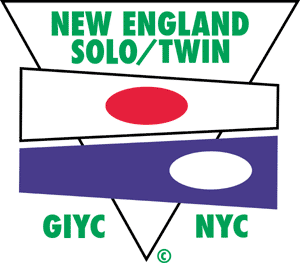 2022 New England SOLO/TWIN Championships
Friday, July 29, 2022, Sponsored by Newport Yacht Club
Singlehanded and Doublehanded classes will start on Friday. The courses consist of ocean triangles of from 65-125 miles in length, which begin and end in Narragansett Bay, and which vary for the Monohulls, Multihulls and Cruising Canvas divisions. The SOLO-TWIN is raced annually.
Registration Thursday 1600-2000
Skipper's Meeting Friday 0900
First Start Friday 1200
Awards Saturday 1700
Registration is over!
We are planning on having Registration in person on Thursday before the start and the Skipper's Meeting on Friday 0900 both at the Newport Yacht Club.
2022 Results
DOWNLOADS
2022 Documents: Notice of Race / Safety Check List / Schedule
Sailing Instructions
Race Log
Entrants
Class Scratch Sheet
2022 Results
Mark Roundings 1
Mark Roundings 2
Cliff Mitchell Family Trophy:  Lily Pad – Peter and daughter Rudy Utzschneider: they raced even thought they were the only boat in their class just to get experience for Rudy.
New England ShortHanded Ocean Racing Trophy:  Michael Millard on Wildeyes
7/30 1900: About 45 people participated in the 2022 New England Solo/Twin Awards.  It was nice to see people attend that withdrew before the race and those that withdrew during the race as well as those that finished the race.  24 boats started but 16 finished mostly due to the hours of no wind. Trophies were awarded including Windswept who hadn't finished yet but everyone knew Rick McCally would finish (sure enough he did after the Awards). Bill Shea has provided pictures and they were displayed during the meeting.
I would like to thank the following:
– Race Committee Boat: Peter Jencks, Caryn Cummings (provided breakfast as well), Roger & Jane Fontaine, Ted Singsen, Bill Shea (pictures) and Roy Guay.
– Rudy & Dani and the Dock staff for putting up with us.
– And thanks to all those that participated thus keeping this race going.
7/30 1759: Rick McCally on Windswept was the last boat to finish (after the Awards).
7/30 1439: Lily Pad finished! So just Windswept left, again.
7/30 1400: Waiting for two boats to finish: Windswept Class 5 and Lily Pad Class 6.
7/30 084142: Alchemist finished.
7/30 0803: Digger finished, 1st in class 1 to finish.
7/30 0750: Recap on all the boats that have withdrawn, so far: Hope, Larvik, Sail For ALS, Smitten, Solarus, Yanquina.
7/30 0630: Coconut first to finish (on the shortest course today 77 nm) at 0545.  Gallop followed that at 0630 for 2nd to finish.
7/29 1300: And they are off.  23 started, Alliance called in just before the start and had to withdraw due to engine problem, Highlander withdrew earlier in the morning due to sickness, Callisto withdrew yesterday due to autopilot problems Blackbird withdrew yesterday due to lack of participants in the multihull class.  The wind piped up to 15-20 knots and the first two starts were lively with a lot of action at the race committee boat.  6 classes started however we started class 4 non-spin and class 6 together; only 3 in class 4 and just the one catamaran in class 6.  We gave both classes the same course but with a lot of up wind work predicted the catamaran has a lot of work to do to keep up.
7/29 0930 – A continental breakfast was provided by Caryn Cummings.  Many people were there for the Skipper's Meeting.  Courses were assigned: A for classes 1 &2, B for classes 3 & 5 and C for classes 4 & 6.  It was also announced that Classes 4 and 6 would be starting together.
Past Results
Pre 2004 New England Solo/Twin Results
Article Providence Journal 1992 by Dave Philips
Past Event Chairman
1986 – Ron Dwelle
1987 – Ron Dwelle and Steve Black
1988 – George & Mary Beth Pike
1989 – Peggy Wood
1990 – Peggy Wood
1991 – George & Mary Beth Pike
1992-1997 – Geoffrey Spranger
1998 – Joe & Marge Scowcroft
1999 – Geoffrey Spranger
2000-2001 – Clifford Mitchell
2002-current – Roy Guay