2022 Frostbite
Frostbite starts 1 January at the Newport Yacht Club.  After this we race every Sunday, except Easter Sunday, until the middle of April (10th).  We start setting up the boats at 1130.  We typically have two classes, A and B.  Position from previous weeks racing determines what class one is put in.  There actually is a C Class however they never leave the bar!  We typically rotate the classes; Class A races with Class B running the race, then Class B races with Class A running the race, etc.
COVID-19 and 2022 racing
Hopefully this finds you safe and healthy during this long year.  The NYC Frostbite Committee is working hard to pull together a plan so we can sail this January given the restrictions that are in place for COVID.  For that to happen, the following changes will be in place for the 2022 season:
1. COVID – Masks are required for the un-vaccinated. Proof of vaccination is not required but requested.
COVID requirements will be in place as directed by the officers of NYC and the state of RI.  ​We anticipate a return to "normal" Frostbite sailors will be able to use the Main Deck as in the past. ​We will be responsible for the main deck and galley cleanliness. ​As in past years we will offer sailor supplied pot luck by designated sign up sheet.
FEES:
NYC Member: $100.00
NYC Junior Member: $50
Non-Member Newport Resident: $175
Non-Member/Non-Resident: $200
Non-Member Junior (14-17):  $50  (must be 14 as of January 1 or with Frostbite Committee approval)
As we are generally an informal group, we may have to tighten things a bit as the Frostbite Committee will do everything possible to get the season started safely on 1January.  Participants should anticipate many audibles in order to keep sailing.  
Hope to see you out there,
Frostbite Committee
Bea Grimmitt, Chair
Mary Ann Jencks
Caryn Cummings
Online registration not used for 2022, download the Registration Form below, fill it out, send to the Newport Yacht Club, Frostbite, 110 Long Wharf, Newport, RI 02840 or drop it off at NYC and put in the Frostbite Mailbox.  You may also scan in the completed form and email to Bea at Frostbite@newportyachtclub.org.  Questions may be directed to Bea and Frostbite@newportyachtclub.org. 
Downloads
Sailing Instructions (updated 12/2)
Registration Form (updated 12/2) – Registration closed 12/13
Waiver form required for entrants under 18.  Download, fill out and submit to Frostbite chairman. 
Results
2022 Results

SummaryJan 1Jan 2Jan 16Jan 23Feb 6Feb 13Feb 20Mar 20Mar 27Apr 3Apr 10

4/10 – 23 people raced on this last day of Frostbite 2022.  Nice day, around 50 degrees, partially sunshine and wind out of the NW at 15 kts. Everyone took the masts down after racing.

4/3 – 25 people participated in very nice conditions.  SE at 10 Knots shifting to the south. Finished just before the rain started.

3/27 – 19 people with winds out of about the West 12-20 knots with very shifty conditions. 9 races were held.  Paul Fleming did the turtle thing.

3/20 – The wind started out real light out of the SW but kept building to the point that they held off a bit.  Then after they started up again the wind kept getting lighter and eventually switched to the North and died.  Quit before B fleet could get their race in.

3/6 – Racing canceled today due to fog and high wind gusts.

2/20 – Today the wind went from 0 to 26 out of the southwest when Rob Schult tipped the Turnabout over thus canceling the race.  Rob kept the boat from turtling by getting on the centerboard and righted it for the crash boat.  However they did get 3 races in.  Also, David Wilson was notified during racing that he is a new granddad! Daughter, Kate, gave birth to a boy over 8 lbs today. Congrats to both.

2/13 – Super Bowl Day!  Snowed all day but they got 7 races in with 23 people at times. Wind started out of the North light and went right to NE still light.  B fleet sailed one less than the A fleet.

2/6 – The boats needed to be cleaned out first of snow and ice from last weekend's major storm.  Then the winds were frigid and fluky light so they only got 5 races in. Dave Wilson great pirouette with nice recovery. Wind out of the South about 5-10 but very shifty.

1/23 – Most of the day was fine with a Westerly breeze about 10 knots but then the South West came in!  3 classes but only the A fleet got in 3 races.

1/16 – Didn't look good initially, 5 degrees and no wind. But the temp warmed up to mid 20s and the wind out of the East at 7-9 knots, 6 races were able to be held.

1/9 – Racing canceled due to rather strong winds.  Hitting 30 knots.

1/2 – Racing was delayed due to NO WIND.  However wind came in from the SW fairly light.  Were able to get 6 races in though.

1/1 (Saturday) – 25 people raced in spring conditions; 50 degrees wind out of the south at about 12 knots.  The fog came in giving a good excuse to quit maybe a little bit early but got 6 races  in.

Past Results 
Pre 2019 Frostbite Results
Turnabout Ad from the 1950s! Courtesy of Joe Slawinski.
Rules of Sailing Articles
There are a bunch of good articles about the Racing Rules Of Sailing on the Sailing World Magazine website.
How to roll up the new Turnabout (N-10) sails!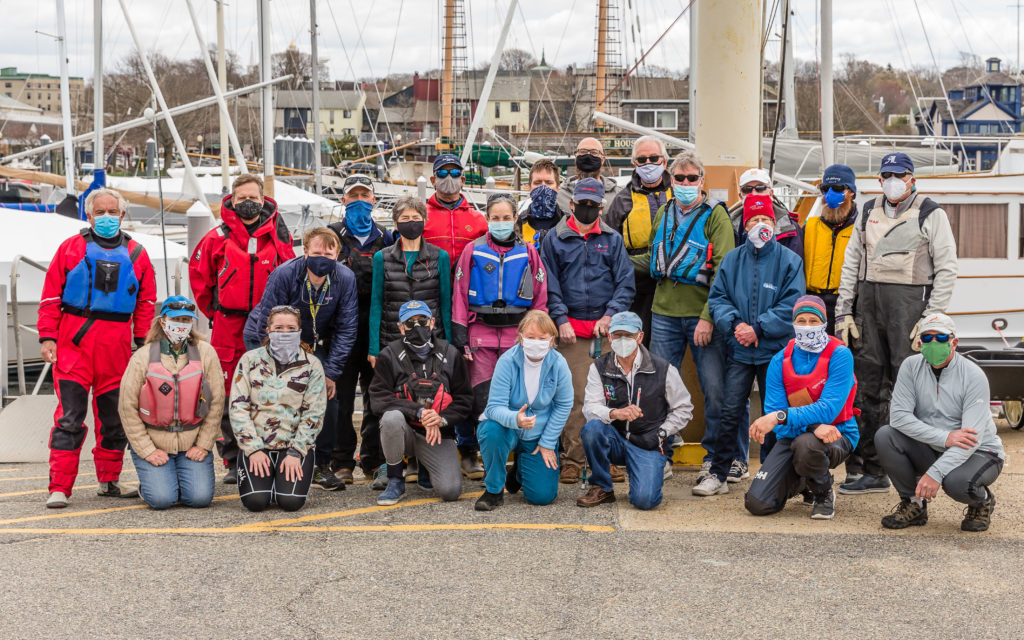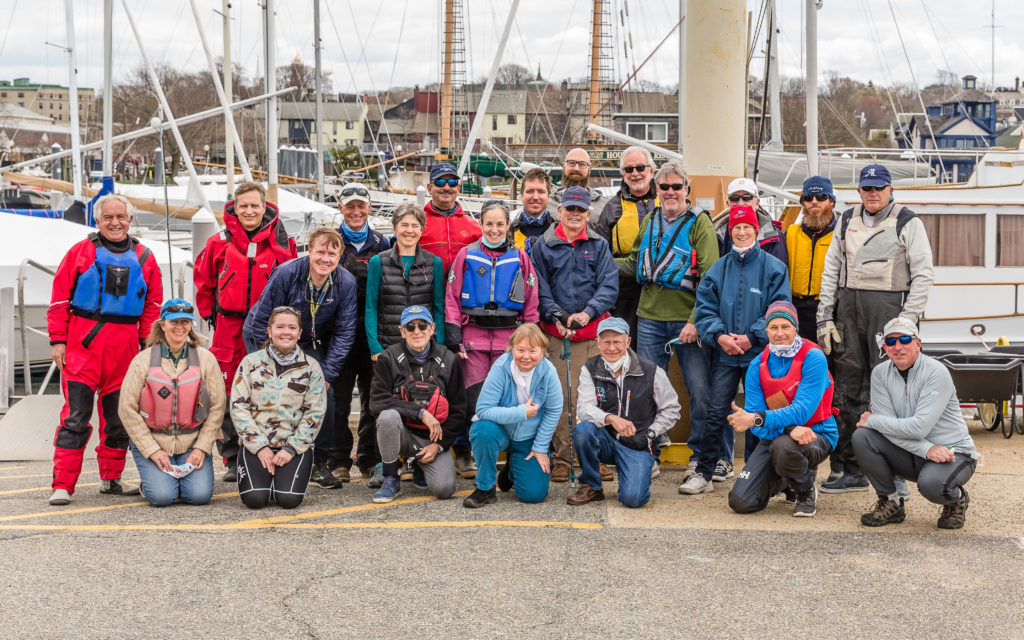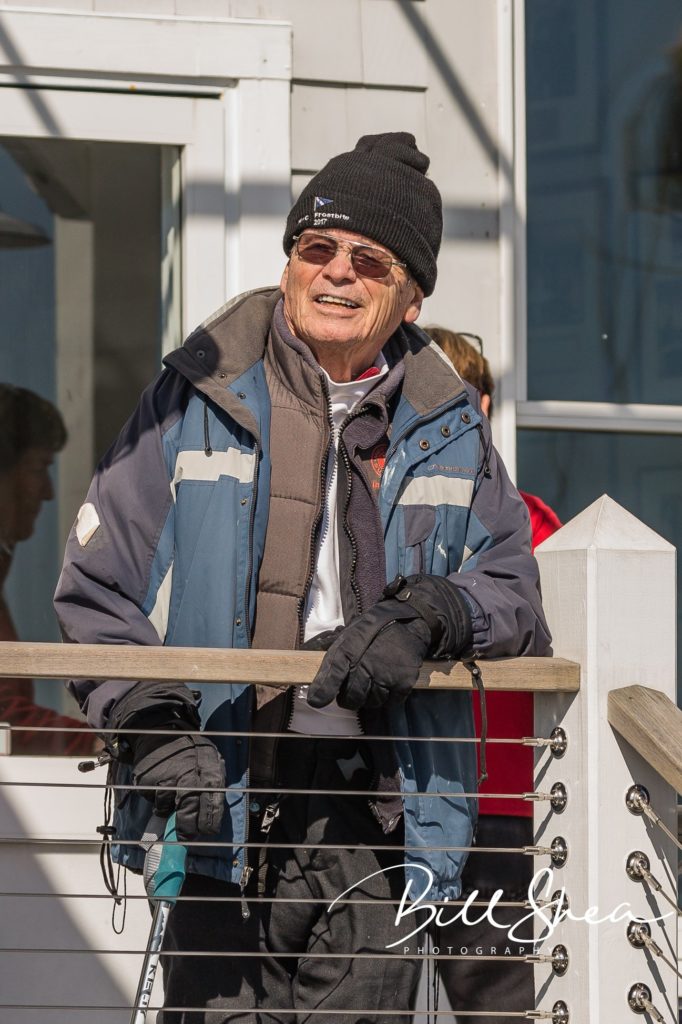 YEAR
FOUNDERS CUP –
PAST FIRST PLACE FINISHERS
(FOUNDED 1953)
JUDY DEL NERO –
TOP WOMAN FINISHER
2021
FJ Ritt
Bea Grimmitt
2020
Rick Nebiolo
Susan Besse
2019
FJ Ritt
Bea Grimmitt
2018
FJ Ritt
Bea Grimmitt
2017
Rick Nebiolo
Missy Hudspeth
2016
Rick Nebiolo
Bea Grimmitt
2015
Adam Cove
Brenda Mitchell
2014
Rick Nebiolo
Kate Wilson 
2013
FJ Ritt
Suzy Harrington
2012
FJ Ritt
Kate Wilson 
2011
FJ Ritt
Bea Grimmitt
2010
FJ Ritt
Bea Grimmitt
2009
FJ Ritt
Winkle Kelley
2008
FJ Ritt
Bea Grimmitt
2007
FJ Ritt
Bea Grimmitt
2006
Roy Guay
Bea Grimmitt
2005
Chris Brady
Bea Grimmitt
2004
Roy Guay
Bea Grimmitt
2003
Charles Shoemaker
Bea Grimmitt
2002
Roy Guay
Bea Grimmitt
2001
Roy Guay
Bea Grimmitt
2000
Roy Guay
Winkle Kelley
1999
Charles Shoemaker
Rebekah Eddy
1998
Roy Guay
Laura Slye
1997
Charles Shoemaker
Winkle Kelley
1996
Charles Shoemaker
Rachel Sanders
1995
Charles Shoemaker
Rachel Sanders
1994
Charles Shoemaker
Mona L'Heureux
1993
Charles Shoemaker
Pam Kirk
1992
George Kirk
Sarah Horowitz
1991
George Kirk
Pam Kirk
1990
Matthew Corbishley
Pam Kirk
1989
Geoffrey Ewenson
Ellen McMahon
1988
Charles Shoemaker
Betsy McClintock
1987
Charles Shoemaker
 
1970
Robert Morton 
 
1969
Michael Medeiros 
 
1968
Michael Medeiros 
 
1967
Michael Medeiros 
 
1966
Michael Medeiros 
 
1965
David Del Nero 
 
1964
Henry L. Spingler
 
1963
Peter Herman
 
1962
Charles Laroue 
 
1961
Charles Laroue 
 
1960
Charles Laroue 
 
1959
Thomas Dawson 
 
 
 
 
Registration is over!