DATES TO REMEMBER
September
September 21:  Special General Membership Meeting/Vote on House Rules  11am to 7pm
September 30:  Sail for Hope
October
October 5: General Membership Meeting 7pm
October 7-9: Mitchell Memorial Regatta
October 12: Sailing Toward Sustainability Event 5:30pm to 7:30pm
COMMODORE'S CORNER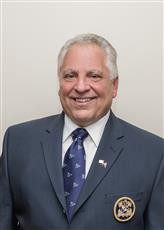 Greetings to all,
This is the last Burgee before our October General Membership Meeting. Therefore, I would like to recognize and thank at this time the board members who will not be continuing on the board.
Bruce Long-Treasurer, FJ Ritt-Regatta, Peter Jencks-House and Jeff Blais-Membership. Thank you all for your hard work and dedication to our club. I hope you will allow me to call upon you for your help when necessary.
The weather cooperated for our end of season Dock Party. Thank you Betsy and all who participated and helped with the event. As well as a special thank you to Sarah and Albert.
Please plan on attending the General Membership Meeting on October 5th at 7pm to welcome in the new Board of Directors and vote on the Members at Large.  And don't forget the September 21st Special General Membership Meeting to vote on House Rules regarding children and families in the lounge and West Deck. Come to the Club anytime between 11:00 am and 7:00 pm on the 21st to vote.
Still a lot of boating to enjoy!
Bob and Rosalie
COMMUNITY SPIRIT: SUPPORT SAIL FOR HOPE
Sail For Hope is a dynamic regatta, and a fundraiser for worthy causes every year. Whether you race, buy the merch or simply donate, this year the Maui Food Bank will receive 100% of all donations made in conjunction with the event (less credit card fees) and the net proceeds from regatta registrations, bar, merchandise and door ticket income.  Please recruit donations from your crew, neighbors, friends and family.  Through Sail For Hope, we demonstrate how much the sailors of Narragansett Bay care for those in need, near and far.  Many Club members race in this event and support it year after year. Mahalo! Learn and donate at:  https://sailnewport.org/calendar/2023-sail-for-hope/
COMMUNITY SPIRIT: IN SUPPORT OF THE BLUE ECONOMY
The Newport Yacht Club is hosting a night of speakers and connections surrounding the blue economy. The blue economy holds great promise for the future development of Newport and surrounds. Learn about the potential at this important event.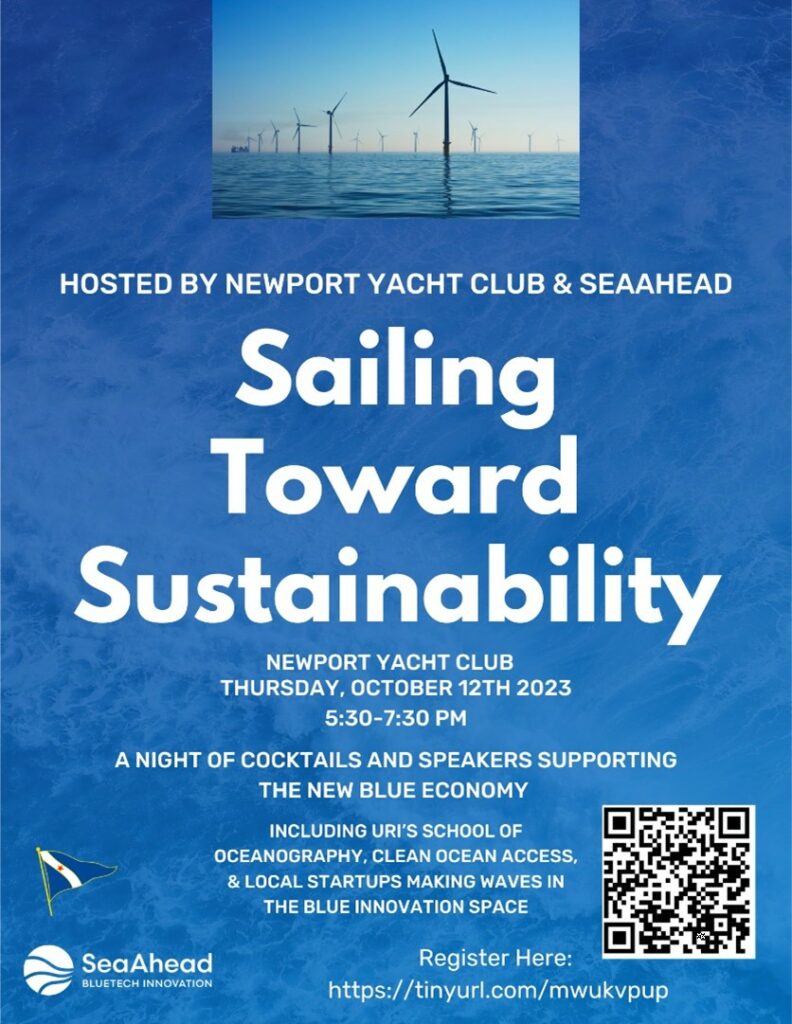 REGATTA COMMITTEE
THE RESULTS ARE IN!
Summer Series for the One Design and PHRF Fleets finished the 2nd Series on 29/30 August respectively. The results are below.
One Design First Series
Ensign Class: 1st-Scott Mason; 2nd-Bill Steel
J22 Class: 1st-Mike Hill; 2nd -Jonathan Thurston, 3d-Cecelia Schneider
S-Boat Class: 1st -Cory Silken;  2nd Sheldon Whitehouse;  3d-Fred Roy
PHRF First Series
Class I: 1st – Andrew McClachy; 2nd – Robert Morton; 3d- Roy Guay
Class II: 1st -Chuck Taylor; 2nd -Nicholas Pasyanos
Ensign Class: 1st -Scott Mason
J-22: 1st – Evan Boyd; 2nd -Susan Besse; 3d -Bea Grimmitt
Class IV: 1st -Nick Nicholson; 2nd -Sara Whitfield
One Design Second Series
Ensign Class: 1st -Scott Mason; 2nd -Bill Steel
J-22 Class: 1st -Jonathan Thurston; 2nd -Anthony Leach, 3d -Daniel Forster
S-Boat Class:  1st -Angus Davis;  2nd -Sheldon Whitehouse; 3d -Fred Roy
PHRF Second Series
Class I: 1st -Roy Guay; 2nd -Fred Roy; 3d -Robet Morton
Class II: 1st – Chuck Taylor; 2nd -Nicholas Pasyanos
Ensign Class: 1st -Scott Mason; 2nd -Bill Steel
J-22 Class: 1st -Maura Boyd, 2nd -Susan Besse; 3d -Deb McCay
Class IV: 1st -Sandy Takacs; 2nd -Nick Nicholson
NEW ENGLAND MULTIHULL UNLIMITED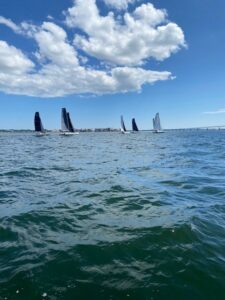 The New England MultiHull Association held their annual Unlimited Regatta with Newport Yacht Club acting as Race Committee.  This has been an annual event for both parties for several years and this event was a phenomenal success.  Great weather with a medium to gusty Northwest breeze challenged the competitors for both days. The Race Committee conducted 4 races on Saturday and a 21 mile Long Distance Race around Jamestown for Sunday. Many thanks to all the volunteers for giving their time on both days for this event. Special thanks to Steve White who has been part of this event running the signal boat for the past two years. 
THE MITCHELL RACE IS ON!
The Mitchell Race during Columbus Day Weekend – 7-9 October: THE RACE IS ON!  Whether power or sail, sign up for the event and be on Block Island and cap your summer with an end of season cruise!  Go to the OFFSHORE section of our Club website, under Sailing and look for Mitchell Memorial and Columbus Regattas for information.
MANY THANKS!
Many thanks to all the people who have provided their time and effort so the Summer Series Races could be conducted on Tuesday and Wednesday Nights. The races could not have been run without your participation, THANK YOU!  Special thanks to Alan McCoy and Alan Renfrew for their tireless efforts doing all the behind-the-scenes work setting up the schedules, scoring systems and Volunteer. A giant thank you to the both of you!
JUNIOR SAILING
As the summer season progresses to fall, I would like to inform all members of the Newport Yacht Club that again the Junior Sailing Camp ended with a successful season.  The success did not just happen. It took significant efforts of the NYC Management staff to secure instructors, having to reach across the pond for an all Irish College Sailing Class. These college students instructed professionally as well as made the program fun for all its participants. Not only was sailing learned by the campers, but a cultural experience provided by the Irish students was made!
Thank you Rudy and your contacts for making this possible, as without the international staff the camp may not have occurred. 
On a second note the Junior Sailing Committee would like to thank Club volunteers that gave their time, sailing experience, and their boats to give the campers "The Big Boat Experience " on two occasions.
Special thanks to Lew Abramson, Jonathan Bixbey, Casey Farciano, Pam and Jack Grant, David McLoughlin, Mark Nannini and Peter Sheehan. Without you and your crews we could not have provided this special experience 
(Small sailboat and big sailboat pics here)
As the Junior Sailing Committee moves forward in preparation for next year, feel free to share your  suggestions to enhance the camp experience for 2024
Respectfully submitted and thank you,
Al Sgambato, Mike Barszcz and Aedan Gleeson 
VICE COMMODORE STRATEGIC PLAN UPDATE
Hello Fellow Members! Many of you have asked me about the Strategic Plan implementation and I want you know I have not forgotten! Once we get by the General Membership Meeting on the 21st, we'll start to formalize the team formation and will be sending out surveys requesting input on various ideas that have been raised throughout the process. Many of you have shown your willingness to help out, and I have kept note, I assure you so please stay on standby! 
Steve Dolan, Vice Commodore
FINANCE COMMITTEE
The chairs continue to manage their committees, but summer weather has had a negative impact on the more social side of our budget … Float & Dock, Food and Bar. We are still ahead of the budgeted forecast by $22K (January through August).
Preparation for the 2024 budget has already started with the goal for the initial draft to be completed by the end of October.