The 2023 Bermuda One-Two singlehanded leg completed today, 6/7, after the finishing of 18 boats that started on 2 June in Newport. 24 boats started in wonderful weather but that changed by late night. Three boats returned home for various reasons and one withdrew but continued to on to Bermuda. The first boat to finish was First Light, a Class 40, skippered by Cole Brauer a 29 year old female. Cole is the first woman to finish first in the Bermuda One-Two and the race has been run since 1977.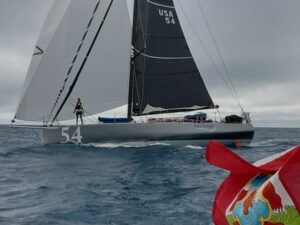 The last boat to finish was Windswept Rick McCally from Barrington, RI. This is Rick's tenth Bermuda One-Two. Rick's boat suffered a broken boom on the second day.
The wind after a calm period switched to the North East which isn't a pleasant direction at the Gulf Stream; wind against the current makes for short wave period and steeper. Winds were 20-30 for a lot of the leg and well over that for some of the boats. The wind died down into the teens nearing Bermuda. The boats had a fast trip. Lots of carnage. One boat split his Main sail in two, one had it's life raft swept off the deck, several boats has almost total electronics failure, one had to hand steer due to the loss of it's autopilot, one had both rudders delaminate (returned home), one lost a spreader (very slowly returned but was eventually towed by the Coast Guard).
Above is a picture of the boats at the St. George's Dinghy & Sports Club. The rest of the boats are at the town dock and one in Hamilton.
The results are posted on the Bermuda One-Two website: Bermuda One-Two Results.
The boats pickup a crew member in Bermuda and then race back to Newport starting on Thursday 15 June doublehanded.