DATES TO REMEMBER
May
May 23: Paddle Sports Safety and Skills Class
May 29: Memorial Day, appropriate to dress ship
June
June 2: Bermuda leg of Bermuda 1-2 starts
June 6: Blood Drive 4-8 pm
June 10:  NYC Commissioning ceremony
June 15: Newport leg of Bermuda 1-2 starts
June 24: Bermuda 1-2 award ceremony
COMMODORE'S CORNER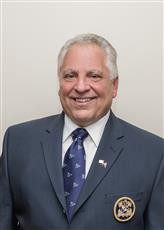 Greetings to all,
It is a very busy time at our club. Our staff continues to prepare the marina and the entire yacht club for the new season.
On May 1st we opened the sign up for our 129th commissioning ceremony on June 10th, and thus far the response has been great. Work is continuing on the new sprinkler system and our new Wi-Fi system should be ready to go very soon. Our General Membership Meeting was held on May 4th and was very well attended by 93 members. At the meeting we reviewed our ongoing projects, our Strategic Plan and our new Sustainability Plan. We then reviewed our audited financials for 2022. As a result of many factors, including but not limited to the increased cost of labor, materials, food, liquor and all utilities we finished the year with a negative cash flow for the first time in many years. Because of this, we did not pay the additional $73,000 toward the dock loan. After a spirited debate, a motion was passed to continue the $100 dock loan assessment in 2024 with the plan to pay off the loan next year. This means we will pay off the 20-year loan in 11 years instead of 10 years.
We also reviewed the Five-year Plan and each committee chair reviewed the activities of their respective committees since the last General Membership Meeting. In addition, the members who were present elected Tom Rowe (chair), Jack Ellis, Steve Damas, Tom Newman and Mike Warren to the nominating committee. Congratulations and thank you for your willingness to serve. Please reach out to them if you would like to volunteer.
With respect to the meeting, I would like to apologize to all in attendance for its length. I allowed the meeting to go on far too long while not following the fundamental Roberts Rules of Order. Therefore, from this day forward, we will adhere to these rules as closely as possible. This will include section 43:8-"Max time for each speech" and section 43-12-"Number of speeches on the same question per member per day." By following these rules, our meetings will become more orderly and time sensitive. 
The Flag and Board of Directors thank you for your confidence and support. Wishing you a great start to the boating season!
Bob and Rosalie
BOATLINE RECOGNIZES NEWPORT YACHT CLUB AS ONE OF TOP THREE ON EAST COAST
As if we did not already know! Boatline.com has selected the Newport Yacht Club as one of their top 3 yacht clubs on the east coast. The article cites our history, our amenities, even our Frostbite Sailing as among the many reasons for their choice. Congratulations to all the staff and volunteers who propel us to continued greatness! Click to read the article.   
OUR FLAGPOLE REVEALS ITS SECRETS
Recently, house committee chair Peter Jencks, also a carpenter, ascended the flagpole to check its condition. The need for repair was noted, and the flagpole taken down.
 It was always known that the flagpole had once been a ship's mast, but no origin or history had ever been recorded. And what a history that has turned out to be.
In dismantling the mast, Peter found that a time capsule had been concealed, under lead, printed in triplicate and secured under the top of the mast by flag officers many decades ago. It revealed the compelling history of the mast, including that the flagpole had been acquired for the club from the Newport Reading room by member Henry Spingler. It was significantly restored by club member and carpenter Charlie Tuttle. The letter also states that Mr. Tuttle was a stickler for flaq eitiquette and upon his death, the flagpole was to serve as "a permanent memory to him." But the story does not end there. This is a ship's mast after all. What ship?
Mr. Spingler and his wife Lynne have further revealed that the mast is from S/V MAGIC, the winner of the first America's Cup in 1870! This is a significant archive of maritime history.
Here are before and after pictures of the repair, and a picture of the S/V MAGIC, from which it came. Special thanks to Peter Jencks and his efforts to preserve and protect this important asset.
FROSTBITE COMMITTEE
What a great party! Thank you Nick and Patty and to all who attended and brought such great goodies. The weather cooperated beautifully and everyone got a glass! Some were lucky enough to get a koozie too.
Attached is a picture of two spoons and a pair of flip shades that were found at Nick's. We are wondering who is missing the spoons and shades?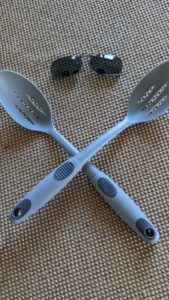 I have them and can try to get them back to you. Write back and we'll set something up. Same goes for those of you who could not make it to pick up your participation award and koozie if you scored a first place.
If you happen to have a copper Kentucky Derby cup please let me know. Or drop off at the yacht club in our frostbite mail slot. Those belong to Mary Ann Jencks and she is serious about her Kentucky Derby. I think the mint juleps and mimosas proved that. They are a personal possession and not a frostbite keeper. Thank you. Missing a few.
Happy Birthday to Ed Brady. In case you missed the cake attached is a picture before it got cut. Yes I have fun picking out the photos and ordering the cake. Yummy cake too.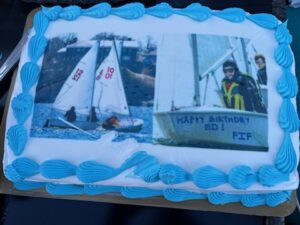 Thank you to Bill Shea for his frostbite photo presentation. No one told me it was going on or I would have announced it and encouraged all to see it. Bill takes wonderful photos as you know by our annual class photo. I hope most of you got to view it. Thank you Bill and Karen for your unwavering support of frostbite.
Congratulations to FJ on first, Missy in second and Peter taking third. Missy was also top female and winner of the Judy DelNero trophy.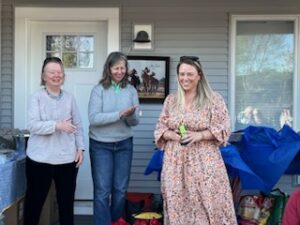 I guess they were shy in opening their awards but they were all slightly different. Same photos but in different order. If you could take a photo to share with the group that would be great. In fact feel free to share any awards photos, pickle ball shots, group shots. Sorry, I couldn't even tell you where my phone was much less take pictures.  
Congratulations to Rick Nebiolo on his engagement and also on receiving the Shoemaker Sportsmanship Award. That's always a tough decision because so many contribute and go the extra mile to make frostbite work. Rick is constantly setting up the best course possible for us and changing it (insert throat clear) to be as fair as possible. If you get the chance, go out in the committee boat sometime when both he and FJ are in it. One says up, the other down, port no starboard – on the water live entertainment. He is also a fair reporter on weather forecasts and weekly help, advice and coaching. Sportsmanship is what drives the frostbite fleet. We're all better when we work together to be as good as we can be.
Thank you to the alumni and supporters who came to cheer us on. I hope you all get to see your names on the Covering the Turnabouts "recipe" when we get it posted at the yacht club. 
I am now a fan of pickle ball! The auto ball pitcher and I aren't the best of friends – it's relentless! I guess it helps with that paddle to ball coordination but the little demon just kept throwing…
The Turtle. I'm told it wasn't signed by Sean or Rob – I will sign it for you therefore you miss picking out your place. Unless you tell me otherwise pretty quickly because it will go back in the trophy case sometime this week. I signed for Paul DelNero because I knew he couldn't make it.
And most of all, I'd like to thank my fellow committee members, Mary Ann Jencks and Caryn Cummings – I really couldn't do it without them. They keep me sane (no cracks please). They help constantly with getting everything where it should be and reminding me of everything I forget – BIG job, trust me. Thank you, thank you.
To all of you, thank you for a wonderful season. I look forward to seeing you all next January because…Frostbiting Is Fun – yes Ed, FIF
Bea Grimmitt, Frostbite Chair
VICE COMMODORE REPORT
Every member is important to our club. The board is committed to ensuring that the club is open and welcoming to members of all ages. To that end, your board of directors approved the following motion at our April meeting:
"A motion is made to initiate, develop, and implement a comprehensive plan to ensure the club's facilities, activities, and member interaction meets the needs of all its members including, but not necessarily limited to single individuals, families, children, and young adults."
The board subsequently granted the House Committee's request to make changes to the East & West Deck Railing with an estimated cost of  $3700 to insure it meets current codes and regulation to allow families with children to use the respective deck areas under strict parental supervision and enjoy the harbor views along with fellow members. Once again, a special thank you to Peter Jenckes and the House Committee for dedicating their time to make the changes required to keep us in compliance.
Steve Dolan, Vice Commodore
BETTER BAY ALLIANCE ANNOUNCES LIVE CHART!
Live Chart is a new online feature from the Better Bay Alliance that lists, and CHARTS on-water events throughout Narragansett Bay. This provides mariners with an important heads up about congestion, hazards and noteworthy activities so they can plan outings knowledgeably. Find it at HERE.
BLOOD DRIVE
The Newport Yacht Club will be supporting another Blood Drive on Tuesday June 6 from 4:00pm to 8:00pm. View flyer with registration information HERE.
OFFSHORE COMMITTEE-SLIPS OR MOORINGS NEEDED
We have 27 boats registered for this year's Bermuda One-Two.  The leg to Bermuda starts on Friday 2 June.  Ted Singsen and I fly out on Sunday to finish them.  They start back to Newport on 15 June.  Awards will be held on 24 June.
If you haven't told me yet and you might have a slip open or mooring open for the following dates for both the Bermuda One-Two and the New England Solo/Twin, please let me know.
Bermuda One-Two: 27 May to 2 June, and 19-24 June
Solo/Twin:                 25 to 28 July
Roy Guay, Chair Offshore Committee
FINANCE COMMITTEE
The finance committee welcomes two new members, Janet Bottiglieri and Chase Hogoboom. We appreciate their participation.
Please note the following CORRECTION:
At the General Membership meeting last week, I presented the 5 Year forecast and there was a mistake in the 2024 Administration calculation. The original and corrected line item is below.  If anyone would like the complete corrected version of the 5 Year Forecast emailed to them please contact me: girouard1@cox.net or call 401-640-7584 (cell)
Original

Corrected

For the first trimester (January – April), the NYC is ahead of budget by $71,899. Great news!
For the first 4 months, Food and Beverage overall was ahead of budget by $3,943.  The bar is beating budget by $8,163 with food lagging its budget by $4,220. The overall goal for the 2023 fiscal year is for the bar to net 30% and food to net 5%.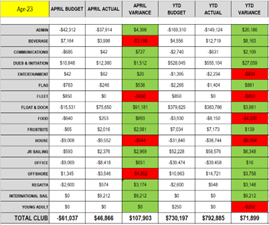 For the convenience and service to our members it was decided to open the bar and restaurant on Mondays and Tuesdays starting on March 1st. The bar was poorly attended during these two days in March/April and modifications to this practice will be considered in 2024.
JUNIOR SAILING APPRECIATES YOUR SUPPORT
Thanks for your support!
On behalf of the NYC Junior Sailing program committee and the 128 kids who will participate in the program this summer, we want to say thanks to all the members who sponsored boats and sent donations to support the program.  The flurry of activity post the General Membership meeting really helped the cause. 
We've received several boat sponsorships and a number of checks in varying amounts marked for the Junior Sailing Program.  These monies will help with needed supplies and other program costs such as fleet maintenance, fleet replacement and increased costs for salaries, fuel and insurance. Be sure to look for your sponsored boat on the Bay starting the end of June. 
Thank you all again! Boat Sponsorships are available until the end of May and donations are always welcome.  If interested, please contact the Junior Sailing Committee for details:
Michael Barszcz                609-553-7258    mbarszcz@aol.com 
Albert Sgambato              401-230-8804    sgamal01@aol.com 
Aedan Gleeson                 508-294-5383     aedan@gleesonpowers.com