DATES TO REMEMBER
February
February 14: Marine Adventure Camp Registration Opens
February 25:  US Sailing Race Officer Training
February 28: Better Bay Alliance Boating Safety 2 Hour Intro Seminar
March
March 11: St. Patrick's Day Shenanigans 11am – 2pm
March 14, 15, 21 Safe Boating State Certificate Course with Exam
COMMODORE'S CORNER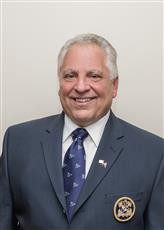 HAPPY FEBRUARY everyone. We've been through some ups and downs of weather, but each passing day gives us more daylight and a warmer sun, spring will be here before we know it.
I'm actually thinking about doing some work on my boat-well maybe not yet!! Come on down to the Club soon to enjoy some of our new cocktails and menu items with good friends.
There is a lot in store for the future of our Club. The strategic planning process is in full swing. Many members have sent their opinions to Vice Commodore Steve Dolan. The 2023 Community Benefit Plan is published, and a new environmental Sustainability Plan has been drafted.
As many of you know, the Club petitioned Newport City Council to consider extending our Agreement past its current expiration date about a decade from now. They unanimously agreed and referred the matter to city staff. The process of reviewing and updating the agreement will take time. However, we are early in the process and appreciate the city's willingness to work with us. I ask all members to be patient and to leave the dialogue with the city up to the board. It is a good process so far!
Congratulations to the Royal Western Yacht Club of England where the Ostar and Two Star races begin. It was just named in the top five yacht clubs in the world.
Back to getting ready for spring…flag pole repair, new refrigerator and freezer being ordered for kitchen, the second phase of sprinkler system will begin shortly and the wireless WiFi for our docks will be started soon. Dock Day is scheduled for April 8, it will be here before you know it!
Wishing you and yours a happy February!
Bob and Rosalie  
REMEMBERING ROB "Eli" WHITNEY
Robert 'Eli' Whitney was born in New Rochelle, NY in 1957 to Horace Burton and Marjory Mackay Whitney on May 14 "Eli" has passed on to the next stage in his journey on January 26th. Raised in upstate New York, he graduated from Fayetteville-Manlius High School in 1975 with no honors to mention. He then went on to Maine Maritime Academy and graduated in 1980 after the completing the 5-year program. The school was only 4 years, but the leadership of the school admired his "party style" and asked him to take a year off and then come back again. He finally graduated with a bachelor's degree in Marine Engineering and a third assistant engineer's license. He went to sea for a few years making several trips to South America and then settling down in the oil fields in the Gulf of Mexico. After 2 years working in Mexico, he "came ashore" and worked as a technical representative for E.G. & G Sealol installing the stern tube seal on the Navy's submarine fleet. He then found a career in the hydraulic world. He worked in this field from 1986 until he retired in 2023 completing many, many projects.
But work was by no means his passion. He loved his family beyond comprehension. He always felt so lucky to have met his wonderful wife, Susan, and was so glad she chose him to be her husband in 1987. They had two wonderful boys, Maxwell Miles and Dillon Cooper who have grown into very fine young men with families of their own, Max and his wife Chelsea and their son Reece Graham, and Dillon and his wife Emma, and their daughter Isla Sarah.
As much as he loved his family, he loved life. One would have to say his favorite recreational past time was sailing. He was a member of the Newport Yacht Club and owned the same boat for 40 plus years, "Swizzle Stick". He, Susan and many, many friends spent countless hours on "the Swizzle" racing around the beer cans and generally having a great time. He was involved with the Boy Scouts of America, watching both his sons and many others develop as young men and many of them achieving the rank of Eagle Scout. He also gave back to the community as the President of the Newport Yacht Club Endowment Fund.
Besides his wonderful family and work projects, he will be remembered for the parties he threw, the laughs he was part of, the tricks he played, and the friends he made.
There will be one last celebration for Eli at The Common Fence Point Community Center, 933 Anthony Rd, Portsmouth, RI on February 26th from 2:00 to 4:00 pm. In Lieu of flowers Eli would love you to take a loved one out on a date and share a laugh in his memory. Smooth sailing.
BOATING SAFETY COURSE REGISTRATION NOW OPEN!
There are two boating safety classes coming up at the Club. Please register ASAP if you are interested as both SELL OUT.
RI Safe Boating CERTIFICATE Class MARCH 14,15 and 21
This is a three-night class WITH proctored state examination on site. Dates are March 14, 15 and 21 from 6:30 pm to 9:00 pm. Cost is $ 49 for one, $ 30 each additional family member paid to the US Coast Guard Auxiliary.  This event is open to the public, please tell friends and share on social media.
DID YOU KNOW THAT BY LAW, RI boaters must have this certificate if:
You were born after January 1, 1986
You will be operating a Personal Watercraft (Jet Ski), regardless of age and regardless of residency.
This is a great, in-depth class taught by licensed captains and goes beyond the standard curriculum to include seamanship, marlinspike and more.
To register for this 3-night CERTIFICATE class, contact Mark Marosits c/o communications@newportyachtclub.org
Better Bay Alliance Safety Intro Class FEBRUARY 28
We are REPEATING the Better Bay Alliance 2- hour INTRODUCTION TO BOATING SAFETY CLASS that was held at the Club in January. The new session is FEBRUARY 28 at 7:00 pm at the Club.
This event is free and the public is welcome. Please feel free to register a friend as well. This is an engaging class taught by local captains and focused on local waters.
Use this EVENTBRITE link to sign up for the February 28 class:
https://www.eventbrite.com/e/535001041517
THANKS ALL!. Let's work together to make this the safest season ever!
STRATEGIC PLAN: HAVE YOUR SAY
Work has begun on the Newport Yacht Club Strategic Plan and we need your input!  We have retrieved the strategic plan from approximately 10 years ago, we have polled your Board of Directors for their input, and now it's your turn! Your ideas and thoughts for what you would like to see your club look like in the next 5-10 years is needed to complete the plan with everyone's input. Creative ideas can be submitted around any of the three primary areas of the marina, the clubhouse, or the overall organization itself. Get your thinking caps on and submit any and all ideas to: vicecommodore@newportyachtclub.org. We will allow approximately 60 days for membership suggestions and then will finalize the plan and publish a poster size summary at the Club.
Thanks and we look forward to hearing from all of our members and spouses!
Steve Dolan, Vice Commodore
COMMUNITY SPIRIT
The Newport Yacht Club 2023 Community Benefit Plan is complete and available for your review. Please follow this link to view the plan https://www.newportyachtclub.org/wp-content/uploads/2023/02/CBP-post-021823.pdf. This plan covers our goals and objectives for community service and benefit, including environmental impact, youth programs, boating safety programs, maritime and sailing event hosting and more. It is always a good feeling to see how much the Club and its members do for our community.
FROSTBITE COMMITTEE
Frostbite has begun!
We kicked off  on January 1st and although we've missed a few weeks due to extreme weather we are plodding on.
Currently Missy Hudspeth is in the lead and all the guys are chasing her. FJ Ritt is on her stern as is Dave Reed and Rick Nebiolo trying to cover.
We've been treated to some fun video coverage from Dave Reed that he shares with the fleet. On Sunday January 29 we had to cancel after arriving at the yacht club. Dave was able to entertain us with America's Cup action from "down under" and the new Foiling boats. Really exciting and fun to have someone explain it all. Seeing the light air Turnabout footage at the end really was like watching grass grow. Or a slow sailboat race.
The newest addition to the Frostbite fleet is covers for the Turnabouts. We did a fundraising campaign to get them covered (pun intended). I'm happy to report with pledged donations from the class of 2023 and "retired" frostbiters and sympathetic yacht club members we will hopefully keep the ice and snow out of the boats and prolong their longevity. Look for the new covers to be over the boats shortly.
We have reached max capacity for participation. Our C fleet has traditionally been in the lounge. With so many participants we've been running 3 fleets so the D fleet, "don't wanna" "d'rather watch football" will have to be the arm chair sailors.
Still plenty of winter sailing time left on Sunday afternoons so come down and cheer on the fleet. Because…
Frostbiting is fun!
Bea Grimmitt, Chair
JUNIOR SAILING COMMITTEE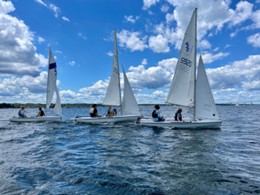 Hard to believe in the throes of winter that registration for the 2023 Junior Sailing Program Marine Adventure Camp opened on February 14, 2023.  Last year 130 campers went through the program, and we are hoping for similar numbers this year.  We are fortunate to be able to once again offer scholarships that can allow a young sailor to gain sailing skills.  The scholarships are needs based and last year we awarded 19 scholarships, 17 to youths from the city of Newport. We have scholarship money available for up to 20 scholarships this year.
We are actively recruiting for a Sailing Director and Sailing Instructors.  There is quite a bit of competition on Narragansett Bay this year for these positions, so if you know of any candidates please have them contact Rudy,  Club General Manager at 401-849-9010.
If you're wondering what to get someone for a gift this year, Junior Sailing has an opportunity for you.  What better way to honor the one you love than to have a boat named for them.  Wondering how? Easy, a $500 contribution gets the name of your choice on one of the Junior Sailing boats to be seen on Narragansett Bay for the Summer Sailing season.  What a great way to recognize someone or something special AND support your club's Junior Sailing Program. Don't miss out. . . to secure a spot for the summer, please contact one of the Junior Sailing Committee Members:
Michael Barszcz 609-553-7258
Albert Sgambato 401-230-8804
 Aedan Gleason 508-294-5383
NAUTICAL TRIVIA NIGHTS
Come represent the Newport Yacht Club on nautical knowledge at these trivia nights open to all. Proceeds benefit the Seaman's Institute. Here is the promo we've been asked to share:
Nautical Trivia Nights
Sailors, Boaters, Beachcombers Welcome
JB's on the Water
150 Conanicus Ave., Jamestown, RI
Specials on drinks & food for the night!!
Every Monday, 6:30 – 8 PM
Gather your crew together to test your knowledge of Sailing Terms, Poetry, Nautical Books, Movies, TV Shows, Racing Rules, Race Management, The Islands, Sea Shanties, Cruising Destinations, Nautical Drinks, Beers, Food, anything with a nautical theme!
You will learn some interesting nautical facts……
Teams will be competing for bragging rights & prizes.
Benefit for Seamen's Church Institute
A Nondenominational Charity for all those who work on the sea and waterfront…
If you don't have a team, you can come and we will get you on a crew!! Great chance to make new water friends!
www.jbsonthewater.com
NauticalTriviaFun@gmail.com
Brought to you by Local Sailors. Ahoy Matey!!!
All Aboard for Fun!!!
 REGATTA COMMITTEE
Second Call for Race Committee Volunteers!
The Regatta Committee is seeking to add to the cadre of Race Committee volunteers. If you are a new member and looking to get involved with Club activities, this is a great opportunity! As reported in the January Burgee, the NYC Race Committee conducts races in the beautiful East Passage area of Narragansett Bay, typically in the area west of Goat Island and just south of the Newport Bridge. We are known for our spring and summer Regatta Series on Tuesday and Wednesday nights in partnership with Sail Newport. More information can be found at this link: 
https://www.newportyachtclub.org/sailing/onshore/race-committee/
To get involved is easy. Send an email to: regatta@newportyachtclub.org with your contact information and we'll get you added to the NYC Race Committee email distribution list. Then simply attend the informal training and signup to volunteer for races. 
We have received several requests from last month and hope to see more this month.
Lastly, Race Officer Training:
We are also hosting a US Sailing Race Officer training session on February 25, 2023. We encourage anyone who desires to become a more knowledgeable Race Officer. 
FJ RITT,  Regatta Committee Chair
FINANCE COMMITTEE
Larry Girouard, Chair Finance Committee
While unaudited, the Newport Yacht Club performed ahead of budget for fiscal year 2022. We finished 2022 with cash from operations (before CapEx) of $104,376.
CapEx for 2022 had a final total of $32,315. This means we completed the year with a net cash position of $72,060 against a forecasted $37,567.
With all the uncertainties going into 2022 regarding the impact on operations due to COVID, the difficulty finding employees and inflation, the board and our staff are to be commended for managing the Club's overall performance and being good stewards of our members' financial investment.
We will maintain our focus on continuous improvement throughout 2023 with particular attention on increasing the bottom lines for both Food and Beverage.
Additionally, we plan to address the following CapEx items in 2023: