DATES TO REMEMBER
September
3 September — Dock Party
4 September — Classic Yacht Parade
COMMODORE'S CORNER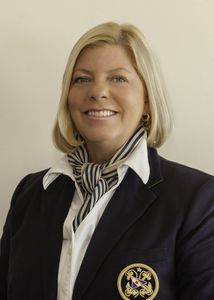 Greetings fellow Yacht Club Members,
The new slate of Officers and Committees has been posted by our Club Secretary, Edith Morin, in the glass case in the first floor hallway.  The Nominating Committee worked hard interviewing volunteers to make this happen.  Thank you Jeff Blais, Pam Breves, Peter Jencks, Les Stevens, and Bill Varr.  Each year we have many volunteer positions to fill so please think seriously about volunteering in 2023. 
The Gold Star kids had a great time here in Newport this year.  Many thanks to Norm Bailey for organizing this every year and to Dennis Ferreira, Roy Guay and Tom Robinson who volunteered their time and their vessels for sailing and swimming in Brenton Cove. 
It is hard to believe we are past mid-August.  The cooler weather has certainly been welcome.  Several members approached me about an additional Dock Party this season.  We are able to accommodate this Labor Day weekend on the Main Pier.  Saturday September 3rd, 4:00 – 6:00 with a rain date of Sunday September 4th, 4:00 -6:00.  Please BYOB, BYO Chair and BYO something to share.   Hope to see you there!
Betsy Green
Commodore
Newport Yacht Club 
COMMUNITY SPIRIT: GOLD STAR SAILING
It is hard to imagine what a child goes through after losing a parent. Gold Star Sailing is a 501-C-3  non-profit, volunteer-based organization  dedicated to providing unique opportunities and adventures to the  surviving children of fallen military service members in order to  instill self-confidence, build character, teach teamwork, develop  leadership, and promote healing in a positive environment of hope,  adventure and friendship. 
The Club, through champions of Gold Star Sailing like Norm Bailey and many others, has played an important role in the program. This year's .Gold Star Sailing event ran from July 31 through Aug 6. There were 16 kids (nine boys and seven girls) who came in from all over the US including two from the UK. Most flew into Boston where the USO hosted them until they traveled to Newport.
The kids were housed at Salve Regina Founders Hall for the week. Most meals were taken at Miley Hall. Sailing took place at Sail Newport (J22's), Coasters Harbor Navy Yacht Club, plus some of our members took the kids for an afternoon sail.
The member boats were Floating Point (Roy Guay and Pat Clayton), Sage (Tom Robinson), and Gallop (Dennis Ferreira). The afternoon sail was followed by the USCG from Castle Hill taking the kids for a ride on their 45 ft. patrol boat before returning them to the Club in time for a Tuesday night BBQ dinner with the Flag Officers Betsy Green and Bob Antignano and Mayor of Newport Jeanne Marie Napolitano.
In addition to a great deal of sailing, the kids went to the beach, walked the Cliff Walk, went rappelling, had a lobster boil, went to a Gulls game, toured the Breakers, the New York Yacht Club and Fort Adams, visited the car museum in Portsmouth. The local VFW and Sardella's Restaurant put on a dinner for the kids at Coast Guard Station Castle Hill.
The Club is especially grateful to Gold Star liaisons Norm Bailey and Sharon McGinnis and all the members and staff who make this event a great success. Gold Star is very appreciative of Rudy, Lynn and everyone who gave of their time, boats and more.
PLEASE NOTE, this event is entirely paid for (including airfare, lodging, food and expenses) by private donation and is offered to the children of the fallen at no cost. This is not a grief camp. This is an important step toward strong futures for these young people.
To learn more and to make a DONATION, visit www.goldstarsailing.org
FLOAT AND DOCK
It will soon be time to start making winter plans for our boats. During the month of September, requests for winter slips will be accepted, as usual.  The parameters will be the same with one difference; all requests will go to Dani, our Dock-master. Returning members from last year will be guaranteed a slip and all members will have priority over nonmembers for the remaining spaces until October 1st when the requests will be honored on a first come/first served basis, including nonmembers.
Fees are the same as last year and Dani will try to accommodate early arrivals as space permits.Watch for the open request period from Dani with all of the details. I hope you all enjoy the best part of the season that is now.
Steve Damas, Chair Float and Dock
OFFSHORE COMMITTEE
Offshore 160 was held 15-17 July. Twelve boats had signed up but for various reasons, eight started.  Gordon Fletcher won his class as well as being the first boat to finish.  John Manderson won class 2.  The last boat to finish was perpetual Bermuda One-Two skipper of Windswept, Rick McCally, Sunday morning.  Twenty people attended the Awards which was held on 17 July.
New England Solo/Twin was held 29-30 July.  Thirty boats had registered but by the time we started only 23 were left. Coconut, Tom DAlbora was the first boat to finish and won his class 4. The first spinnaker boat to finish was Digger, James Phyfe. Last boat to finish was Windswept sailed by Rick McCally (persistent) Saturday afternoon 3 hours before the Awards. Forty-five people participated in the Awards on Saturday the 30th.  We had 7 boats that were family participants which is nice to see. The Cliff Mitchell Family Trophy went to Lily Pad, Peter and daughter Rudy Utzschneider.  The New England ShortHanded Ocean Racing Trophy which takes the best boat in the 160 and the doublehanded boat in the Solo/Twin (that also did the 160) was awarded to Michael Millard on Wildeyes. This award sort of emulates the Bermuda One-Two but local (single handed in the 160 and double handed in the Solo/Twin).
More detail can be seen on the Offshore 160 and New England Solo/Twin pages of the yacht club's website.
I would like to thank all those that offered up their moorings for skippers.  Thank you very much.
I would also like to thank those that helped for both races:
Race Committee Boat: Peter Jencks, Caryn Cummings (provided breakfast as well) for the Solo/Twin and Jim Oblinger (also provided breakfast) for the Offshore 160, Roger & Jane Fontaine, Ted Singsen, Bill Shea (pictures which are displayed on the website) and Roy Guay.
Rudy & Dani and the Dock staff for putting up with us.
Charlene for the well received food for both races Awards.
And thanks to all those that participated, thus keeping this race going.
Roy Guay, Chair Offshore Committee
JUNIOR SAILING
Well…all good things must come to an end and so it is for the 2022 Junior Sailing Program.  We had over 130 young sailors participate in the program this year.  A BIG THANKS to our Sailing Director Ryan Olaynack and his staff whose hard work and dedication resulted in another successful season.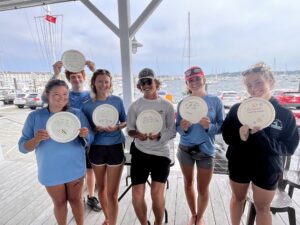 As members of the Newport Yacht Club, you should be proud as this year your club was able to award 19 scholarships providing an opportunity for those young sailors to get on the water, have fun and gain lifelong skills and confidence.   Scholarship money was provided through the generosity of our members and in large part from a generous grant from a local RI charitable foundation.  
However, even though the Camp season is over, the work continues as the fleet needs to be inspected, maintenance performed, and the boats secured for the winter.  All this costs money.  So, if you think you missed your opportunity to support the Junior Sailing Program…think again!  Donations are still gladly accepted.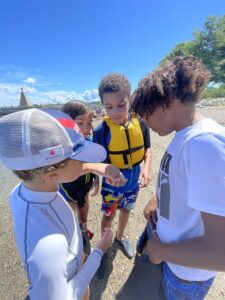 Contact one of the committee members or simply send a check to Lynn in the business office and note on the check that it is for the Junior Sailing Program.
Michael Barszcz                mbarszcz@aol.com                        609-553-7258
Al Sgambato                     sgamal01@aol.com                       401-230-8804
Aedan Gleeson                 aedan@gleesonpowers.com       508-294-5383