DATES TO REMEMBER
June
24 June  —  6:00 – 9:00pm DJ Dance Party
July
15 July  — Offshore 160
29 July — New England Solo/Twin
COMMODORE'S CORNER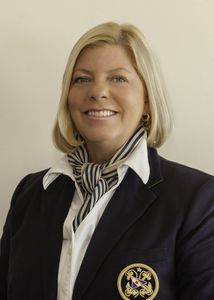 Greetings fellow Yacht Club Members,
I am pleased to announce our Club is now in commission.  The weather held for our Opening Day on June 4th.  Attendees enjoyed food provided by caterer Kevin Dechenes, shrimp by Charlene and music by the Alan Bernstein Band.  Many thanks to our Entertainment Committee of Linda Lupo, Chip Swanson and Yvonne Ferreira.  The decorations were lovely!  Newport Yacht Club staff turned out in full force to keep things on an even keel.  Thank you!!
The OSTAR TWOSTAR awards were presented to the first two finishers on June 9th at a ceremony on the Main Deck.  Jankees and his son Flores Lampe, of Holland, completed the TwoStar race from Plymouth, England in just 18 days followed by single handed Marcus Moser, of Switzerland, who arrived just three days later.  Vice Commodore Bob Antignano and his wife Rosalie accompanied Past Commodore Norm Bailey to England to see them off and were here to welcome them in. Your attendance at the start and finish, commented Marcus, made us feel right at home.  Much appreciated Norm, Bob and Rosalie!
Looking forward to a great summer here at the Newport Yacht Club!
Betsy Green
Commodore
Newport Yacht Club 
IN MEMORY
We extend our sympathies to the family of Brian Needham. His obituary courtesy of the Newport Daily News shares aspects of his remarkable life:
Commander Brian Alan Needham passed away peacefully on May 19, 2022 at the Royal Alfred Seafarers' Association in Banstead, Surrey, U.K.
He is preceded in death by his parents James and Catherine, his wife Marianne Needham, his youngest son Jonathan Needham and stepson Paul Gardiner. He is survived by his sister Cynthia, his first wife Cherry, his son Mark, his son Philip with his wife Nicola, his grandchildren Wanda and Solon, his son Jonathan's widow Ellen, and his stepson John Gardiner.
An impressive wine cellar has also survived him.
Brian was born in Heston, London on November 14, 1934, and studied at Mercer's School in London. He served as a submariner in the Royal Navy from 1952 – 1987 with commands of both HMS Cachalot and HMS Thermopylae. His postings included Singapore, Malta, Scotland, Norway, Gosport, as well as the Naval War College in Newport.
On retiring from the Navy he remarried in 1987 and then worked in coastal management, having attained a degree in Marine Affairs at the University of Rhode Island. He lived and worked in Rhode Island until his return to the U.K. in 2020.
Although he and Marianne were regulars at the Newport Yacht Club, and Brian was also active in the tennis scene in R.I., his enthusiasm for traveling never diminished, and at the age of 77 he set off on a round-the-world trip that included a 43 meter bungee jump from the Kawarau bridge in Queenstown, New Zealand.
There will be a funeral service followed by a wake for family and friends in Windsor, U.K. towards the end of June.
Posted online on June 06, 2022
Published in Newport Daily News
COMMUNITY SPIRIT: THE OSTAR TWOSTAR ARRIVES!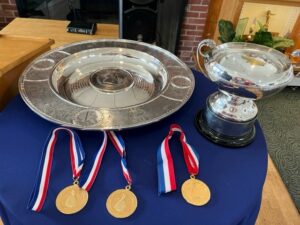 The Newport Yacht Club has a renowned and longstanding tradition of managing, supporting and promoting the sport of sailing. This tradition has helped to advance the sport, strengthen the sailing community and bring many benefits to Newport in the process. This tradition is only made possible through the dedication and gift of countless hours by Club members and staff. The OSTAR TWOSTAR is a shining example.
Special thanks to Past Commodore Norm Bailey for his insights and contribution to this article, and his dedication to the OSTAR/TWO STAR success.
2022 celebrates the 60th anniversary of the OSTAR, which was original single-handed trans-oceanic race, in which the Newport Yacht Club has played an important role. Run every four years, this is the 16th edition of the OSTAR and the 7th edition of the companion two-handed TWOSTAR.
The Royal Western Yacht Club, organizer of the race has this to say: "the first trans-Atlantic race, conceived in 1960 by 'cockleshell hero' Blondie Hasler and organised by the RWYC, sailed from Plymouth to New York and…was an instant success and despite strong opposition from the sailing establishment saw the birth of singlehanded racing throughout the world…(the races) have been the proving ground for many internationally famous yachtsmen and women but the races have always remained true to Hasler's vision – a Corinthian event in which seamanship and the development of new techniques and equipment are paramount…a traditional warm welcome awaits the finishers at the Newport Yacht Club."
Newport Yacht Club has been hosting the finish of the race since 2005. Past Commodore Norm Bailey, who has been actively involved in each of the past four editions, notes with appreciation those members of our Club who get up at all hours of the day and night to greet the finishers, pilot them to berths or moorings, assist with a myriad of needs of crew and vessel and generally provide support and hospitality. And BTW, Norm is among them!
This is a grueling 3000+ mile race in often harsh North Atlantic Ocean sea conditions. Vessels are often damaged, some entrants retire before finishing and others make herculean efforts to cross the finish line.
The 2022 event has had 6 finishers in an original field of 15. One vessel, Hultaj, actually returned to Ireland about 300 miles into the race to have broken rigging repaired, and post repair, immediately resumed and will complete the race having eventually sailed 3700 nautical miles. Kudos to all who participated and special recognition to those vessels which have finished:
La Promesse
LIFGUN
Escape
Polynya
Harmonii
Hultaj/pending
If the OSTAR/TWOSTAR is the Mt. Everest of Sailing, our Club is among the many intrepid sherpas who assist the competitors in reaching the summit. We are honored to play a small role in their outstanding achievements!  
ENTERTAINMENT COMMITTEE
Opening day stands as another great Club event!! 203 members signed up and were treated to a rousing dance band the weather to keep us dry! The entertainment committee supplied the flowers and decorations,while our house and staff put together all the timely details for the invitations, tent, catering and those fabulous shrimp we all enjoy!
Don't forget the DJ Dance Party June 24th 6:00 pm – 9:00 pm. No sign up required. Snacks provided while they last. Also, the rawbar cocktail party and main dock party again this summer!!
And…Deanna Conhenney was our lucky may raffle winner !!

Entertainment Committee,
Chip Swanson, Linda Ferreira and Yvonne Lupo



REGATTA COMMITTEE 
The season has started!  The Mitchell Race to Block Island was held on 28 May with a small cadre of die-hard sailors including three month old Conner Somer!  Parents Brandon and Kate (Wilson) would not let fog and a stiff breeze deny them their first family sail to Block!
The Club's summer evening sailing series also started on 30 May for One Design classes and 1 June for the PHRF classes. Attendance started light but has been growing as boats are getting in the water and rigged. Racing continues on Tuesdays and Wednesdays until late August.
Race Committee volunteers have done a great job with getting the races off in difficult wind directions and have work well with other race committees who are also on the water with their fleets. 
Special thanks to Al McCoy, Alan Renfrew and Lee Parks for getting this season off successfully!
If you would like to participate on Race Committee, please feel free to contact the Regatta Committee and we will get you on the team!
FJ Ritt Chair, Regatta Committee
FLOAT AND DOCK COMMITTEE
The committee conducted a survey regarding slip assignment procedures. In all, a total of 13 discrete suggestions were received. The Float and Dock Committee commented on each suggestion as received. The following is a summary of suggestions and observations. The committee is reviewing and evaluating if changes will be made. Actions will be share with membership once consideration is complete.
| | | |
| --- | --- | --- |
| SUGGESTION | FREQUENCY | COMMENT |
| Include displaced with assigned names, keep the 15 person max per ByLaws. | 4 | This is the way it was done years ago. |
| Maintain a seniority-based system. | 3 | |
| Raise the deposit and give partial refund if you drop out. | 2 | This defeats the purpose of a non-refundable deposit |
| Have separate lists and deposits for each slip size. Moves would require moving to the bottom of the list for that slip size. | 2 | This would be difficult to manage and change slip sizes. |
| Keep the system the way it is. | 1 | |
| Remove slip size from Bylaws, but set a max. limit | 1 | |
| Add all members to the wait list when they join the Club. | 1 | |
| Set minimum and maximum LOA for each slip | 1 | |
| Allow greater than 50% usage of slip width if other boat in the 2 slip space is narrow. | 1 | |
| Set stepped penalty for false LOA on slip contract including loss of slip privileges. | 1 | |
| Eliminate the maximum of wait list size. | 1 | |
| Simplify. | 1 | This is my favorite. |
| Multiple two-stage wait lists. | 1 | Lengthy and detailed recommendation not published here. |
The committee appreciates all the suggestions and will report to membership at an upcoming meeting.
Steve Damas Chair, Float and Dock Committee
NAME A BOAT OPPORTUNITY!
The Newport Yacht Club Junior Sailing program builds skills and confidence and introduces youths to the fun of sailing. It's also a way to give back to the youths of the City of Newport. However, the program cost money and to keep the program affordable, the fees charged do not fully cover the cost of the program.
So, how can you help you ask?  Very simple. . .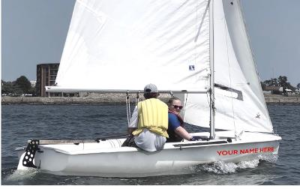 Simply decide on a name which could be your family, your pet, a favorite location. . . your choice and it will be placed on one of the boats in the Junior Sailing fleet.  The boat with your chosen name will be visible all summer long as the boats traverse Narragansett Bay.
So how do I do this?  Easy, decide on a name and contact one of the Junior Sailing Committee members:
Michael Barszcz                mbarszcz@aol.com                        609-553-7258
Al Sgambato                     sgamal01@aol.com                       401-230-8804
Aedan Gleeson                 aedan@gleesonpowers.com       508-294-5383
The cost is $500 and will go a long way to help support the program and keep the fleet safe and in tip top shape.   
OFFSHORE COMMITTEE
The following races are coming up this year:
Offshore 160 – 15 July
New England Solo/Twin – 29 July
Offshore Committee,
Roy Guay Chair, Ted Singsen, Kristen Wenzel