DATES TO REMEMBER
July
17 July — Dock Party!
18 July — Regatta Series Two Starts
29-31 July — New England Solo-Twin
August
4 August — Blood Drive
21 August — Dance Party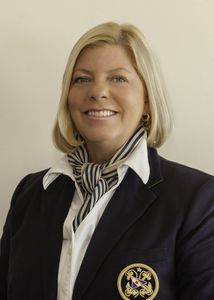 Greetings Fellow Yacht Club Members,
It is hard to believe we are well into summer 2021!   We were fortunate to have dodged a bullet with tropical storm Elsa but we have had to cancel some of our Racing, Grill and other events due to continued rainy weather.  Really hoping that turns around. 
Offshore Chair, Roy Guay, is getting ready for the New England Solo Twin at the end of July and Past Commodore Norm Baily has dates for the Gold Star Kids, Ostar Two Star and Jester Challenge scheduled for 2022.  Nice to be getting back to normal.    
Harry Scott has organized a Blood Drive for August 4th on the Main Deck.  3:00 to 8:00.  Perks include a pint of beer for a pint of blood at participating RI breweries.  NYC is also offering Club donors a coupon for free Grill Night.
Sadly, our Dock Party has had to be postponed a couple of times but we will give it another shot on Saturday, July 17, 4:30 to 7:30.  
Kudos to Entertainment and the volunteers who made the Raw Bar Night a great success.   Linda Lupo, Yvonne Ferreira and Lisa Gladding have two events in the works for late August, details to follow from them. 
Looking forward to seeing you all on the 17th!
Betsy Green
Commodore
OFFSHORE COMMITTEE
The 2021 Bermuda One-Two wrapped up Saturday 26 June with the awards at the Newport Yacht Club.  About 70 people participated in celebrating another successful Bermuda One-Two.
The last boat to finish was Windswept sailed by Rick McCally.  He delayed out there to avoid the predicted Tropical Storm and finished Friday 25 June at 14:48, after 195 hours and 903 nautical miles of sailing (635 nm to Bermuda).  Due to his determination to finish Rick was rewarded with 3rd place in Class 4 in both Corrected Time in the doublehanded leg and in Combined Corrected Time (combined corrected time for both the singlehanded and doublehanded legs). Rick also won the RI Governor's Trophy for the best combined corrected time finish in the fleet by a Rhode Island resident. In contrast Rick also won the Charles Carpenter 'Biermiester' Trophy for last place corrected combined time finish. Rick was also awarded the Longest Participant Award amongst all the skippers that raced in this year's race.  This was Rick's 9th Bermuda One-Two.
Michael Hennessey and Cole Brauer on Dragon were awarded the Newport Yacht Club Commodore's Tray for best doublehanded leg elapsed time finish in fleet (as was done in the singlehanded leg to Bermuda). Young American sailed by Peter Becker and Leah Sweet were awarded the Chester & Lillian Monroe Cup for best doublehanded leg corrected time finish in fleet and also for a first-time entrant. Stanley Paris was awarded the Peter Hegeman Ancient Mariner Trophy for being the oldest skipper in the fleet at 83 (this use to be awarded to people in their 70s). The Jeff Spranger Team Trophy was awarded to the team of Melantho 2nd in class (Jack Clayton & Chris Cunningham) and Reveille 1st in class (Jim Hammitt & John Pauling) for a combined score of 3 points.
Voted by the skippers for the Juan A. Perez Bermuda One-Two Sportsmanship Award to the person who best exemplifies the true spirit of the Bermuda One-Two was Loren Brindze on Topaz. 
Our own member Jonathan Bixby was voted the Skipper's Representative.  Jonathan withdrew from the return leg due to an eye injury from a flailing genoa sheet the first night out from Bermuda in a squall.  His eyesight got better the closer he got to Newport and the last I heard is his doctors said his eye should be fine.
For more details on the results please visit the Bermuda One-Two website www.bermuda1-2.org.
29-31 July – New England Solo/Twin Race
8-11 October – Mitchell Columbus Regatta
6 November – Bermuda One-Two Skipper's Party
Roy Guay Chair, Offshore Committee
JUNIOR SAILING
Junior Sailing thanks our sponsors who donated to name boats in our fleet to support our programs for children and youth! Watch for your boats on the Bay!
Michael Barszcz, Chair
ENTERTAINMENT COMMITTEE
It has been a tough year for all of us, so the Entertainment Committee is hosting a Dance Party on Saturday, August 21 for all.  Please sign up on the website.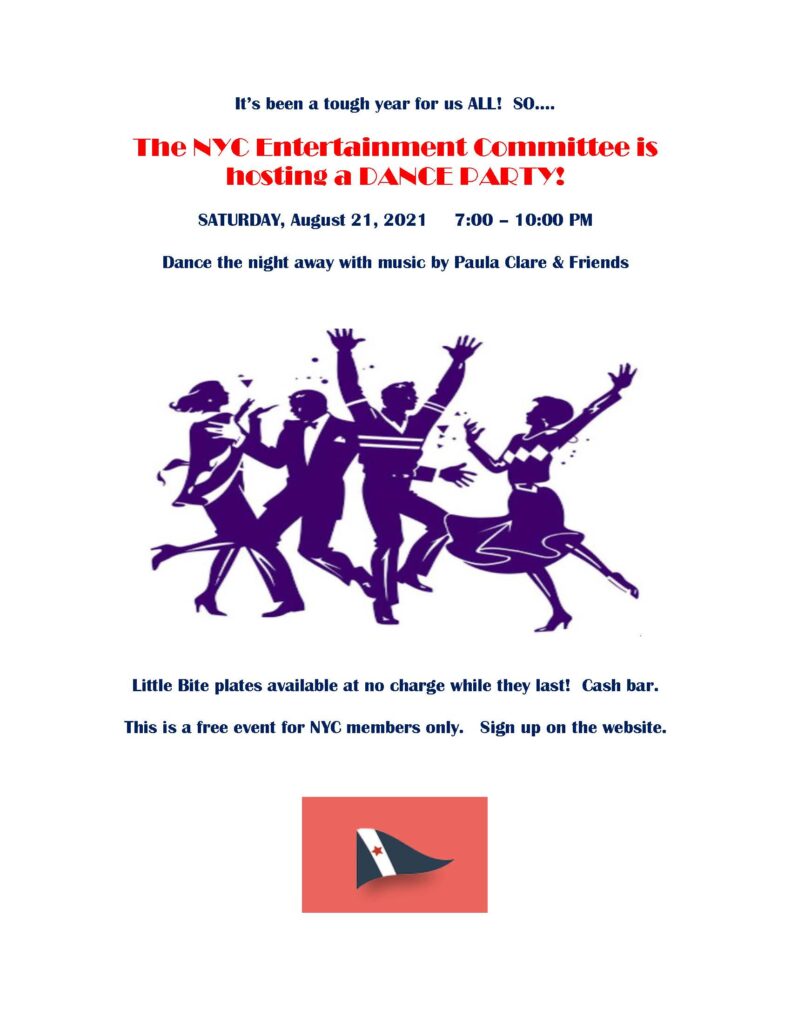 BLOOD DRIVE AUGUST 4 ANNOUNCEMENT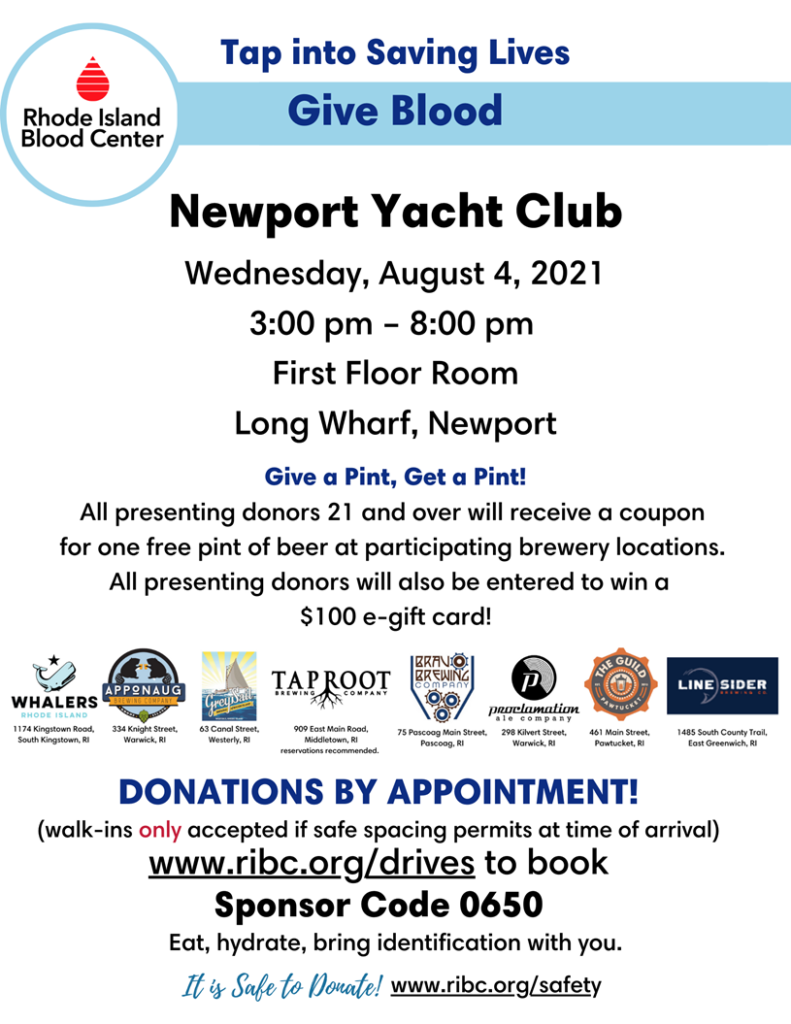 REGATTA COMMITTEE
Regatta Series One is nearing completion with 5 of a possible 7 nights sailed. Participation has been high and the race management team has done a great job at setting up good race courses for the sailors. 
The second series starts week of 18 July and runs to the end of August. 
F.J. Ritt Chair, Regatta Committee
FLOAT AND DOCK COMMITTEE
Several members have asked to be added to the summer slip wait list, so I will take this opportunity to explain how to get on the list.
Presently, we are limited to 15 names on the slip wait list, 5 of them are "displaced" for an E dock of which there are only 8 in our marina.  That leaves 10 people to choose between the remaining 55 slips.  As you can imagine, it is possible to have more slips available than the 10 people can fill given the owner's boat sizes and available slip sizes.
Our plan is to have an up-to-date list of people who want to be added to the wait list.  If we run through the wait list at the slip assignment meeting in December, we can add people from the fresh request list to fill the wait list and continue with the slip assignments.
So, what does that mean to you?  We will open the wait request list during the month of November.  Your names will be sorted by your membership date.  Those people at the top of the list will be notified that you should attend the meeting because the potential exists for you to be added to the wait list that night and have the opportunity to get a slip.  This will give us the ability to fill the slips if the wait list proves to be too short.
Email blasts will be used to notify you when it is time submit your request.
FYI, The winter slip requests will be open during the month of September.  All returning members will have first refusal.  After October 1st, requests will be accepted on a first come first served basis for members and non-members.
Watch your emails for notices.
Steve Damas Chair, Bob Morin, Roger Hemond, Frank Pearson III, David Stewart, Peter Herne, Andy Vouras, Stefan Nassaney