DATES TO REMEMBER
May
Watch for Club announcements
June
6 June  — Memorial Boat Parade
COMMODORE'S CORNER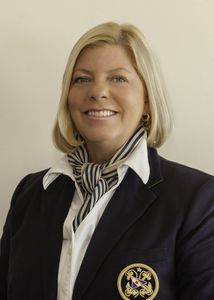 Greetings fellow Newport Yacht Club Members.
The May General Membership Meeting took place on Saturday, May 8th. 
We were happy to announce the Board approved decision to make additional payments to pay down our dock loan as money is accrued, when we have a positive cash flow at the end of the year.  Despite the pandemic, we reached and surpassed that goal in 2020! 
The 2nd reading of the Bylaws took place and they were approved by a majority of those in attendance.
The members elected Jeff Blais, Peter Jenks, Pam Breves, Bill Bagwill and Bill Varr to the Nominating Committee.  They will be conducting interviews over the next couple of months in order to prepare a slate for the 2021/2022 Committees.  Please reach out to them if you would like to volunteer to serve.  
We are looking forward to new changes as restrictions continue to lift and anticipate moving the lounge back upstairs in late June.  The showers and laundry have re-opened. 
Finally, the Memorial Boat Parade for those we have lost will take place on Sunday, June 6th at 5:30.  Please dress ship if you are able.  We will have the cannon at the ready and the Club flags flying. 
Thank you all for your support of the Club and Staff this past year and for your patience and compliance with the rules that enabled us to remain open.  Hope to see you soon at the Club!
Betsy Green
Commodore
Newport Yacht Club
BYLAW CHANGES
The following amendments to the bylaws were made effective as of May 8, 2021 by second vote at the May General Membership Meeting. These amendments were approved as recommended by the bylaw review committee. They are as follows:
Many clerical changes to clarify and or correct the text of the bylaws.
Article X Section 1 Dues and Initiation Fees: The increase of a late fee penalty from the existing 10% of current dues to 20% of current dues.
Article XI Section 1 Assessments: Removal of the specification within the bylaws of the current limit of 35% on assessments for young adults. This will allow for the board of directors to set assessment level at an appropriate level based on current economic conditions and other factors.
Article XII Section 18 Offshore Racing Committee: The Offshore Racing committee will now include International Racing which includes but not limited to O-star, two-star, trans-Atlantic races and running the gold star kids program.
Article XIV-Steward: This simply changes title to General Manager.
Article XVI Section 3 Guests-Privileges: Guest privileges of non-paying family member spouses (versus spousal members) were deleted out of a sense of fairness to family member spouses who pay the membership dues annually. This change means that non-paying family member spouses cannot utilize the club without their member spouse present.
Submitted by the Bylaws Review Committee,
Vice Commodore Bob Antignano Chair, Bob Anton, Jack Grant, Mike O'Reily and past Commodore Tom Rowe
HOUSE COMMITTEE
In case you missed the General Membership meeting this past Saturday, 08 MAY, the following items were discussed:
LOUNGE
The lounge will stay downstairs as long as needed. We hope to get back upstairs as soon as possible. However, we have to wait until after the COVID restrictions are lifted on Memorial Day.
FOOD 
No outside food will be permitted in the lounge or on the deck when the lounge is open and serving food. Since we are offering food, it needs to be supported, and not be undermined with people bringing food in from outside the club) 
WEST DECK 
As of Memorial Day weekend, the West Deck will be open, but only as a seating area. There will not be any staff to buss tables, etc. It will be SELF-SERVICE, meaning you can bring food and drink from downstairs, up, but you have to take it back down and clear your own tables. 
BUILDING and STRUCTURE 
The committee is working on plans to expand the lounge to enclose the East Deck. This will increase the seating in the lounge by 20-25 seats. 
 At the same time, the building will also be fitted with a fire sprinkler system. We can't do anything with the building without coming up to the fire code first. And, good news, it is already budgeted in the five-year plan. 
 It will be done in two phases: 
Phase 1: Sprinklers will be done this winter and next spring and Phase 2: Lounge expansion will follow. 

Thank you.
Peter Jencks Chair, House Committee
FROSTBITE COMMITTEE
Celebrating 2021 Frostbite Season
The Newport Yacht Club Frostbite Fleet, sailing in winter since the 1950s, has completed the 2021 season.
Throughout the four-month series, the race days have primarily been light air affairs allowing the sailors to be very competitive and stay close in the standings. 
As it's been all season, the women's teams with newcomer Amanda Callahan, current Sunfish Class North American Champion and Club member Bea Grimmitt, energized by Amanda being in the Fleet, entered the last day in the one, two positions. Second year frostbiter Dave Reed and frostbite veteran FJ Ritt were in close pursuit for the top spots. 
The day started with a 17 knot Southerly breeze and ended seven races later with a de-masting of one of our B-division sailors. Despite the mast breakage, the best sailing conditions of the season were saved for the last day and provided an opportunity for competitors to make their final move for the podium. Sue Besse racked up 3 wins! David Reed finished 3rd overall just missing Bea Grimmitt for 2nd. First year frostbiter Peter Fernberger showed signs of speed from his days at Pleon Yacht Club and grabbed the fifth overall spot.  Chris Tate had a solid day with a 2,3,2. He'll be tough to beat this summer in his new J105!  
The final standings find FJ Ritt in first, Bea Grimmitt in second, Dave Reed in third, Rick Nebiolo in fourth and Peter Fernberger in fifth positions. Complete final standings are posted on the Club web page https://www.newportyachtclub.org/sailing/frostbite/results/2021/summary/
The Fleet wishes to thank the Club staff, Float and Dock Committee, House Committee and the Flag for all of their support which contributed greatly to a very successful season despite COVID imposed requirements.  
 F.J. Ritt on behalf of the Frostbite Committee and Fleet  
JUNIOR SAILING
The Marine Adventure Camp is just about full. Two spots remain in Session 1 and there is a waitlist for the other sessions.  Kids want to get out on the water! 
This past Saturday at the General Membership meeting, Jack Ellis, as trustee of a RI based foundation, presented Junior Sailing with a $20,000 check for scholarships specifically for children who are residents of the City of Newport.   A big thank you and very much appreciated.
Thanks to several of our members who have already committed to sponsoring a boat.  The opportunity is still available to place a name on a Junior Sailing Boat for the 2021 sailing season.  It could be your name, your spouse or other's name, your Mom or Dad's name, your child, your grandchild, your pet, your business. . . your choice.  The name would be displayed on the hull of the boat and visible as the boats traverse Newport Harbor and Narragansett Bay from Mid-June to Mid-August.  Your $500 sponsorship would be used to support the Junior Sailing program for things such as new boats, scholarships, boat maintenance, sailing equipment or a variety of other needs to keep the program running safely. Please join in, and ask friends or business owners whom you know!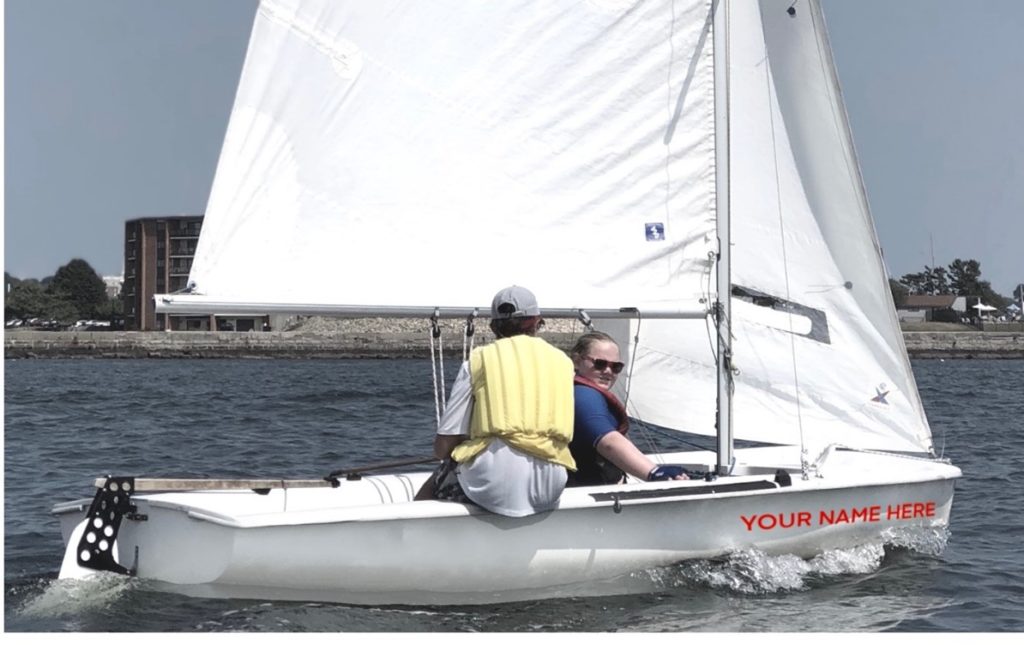 The sailing season is rapidly approaching, so don't wait! Contact one of the Junior Sailing Committee members or Ryan Olynack, Junior Sailing Director to learn more and claim your name on one of the Fleet!
Another opportunity…the "Newporter" could be yours!  Many may be familiar with Junior Sailing's Pearson Ensign, the "Newporter".  Junior Sailing will be auctioning the "Newporter" and Club members will have the opportunity to bid on it.  Starting bid will be $1,000 with some other perks included.  More details to follow.
Michael Barszcz, Program Chair – 609-553-7258   mbarszcz@aol.com
Kate Wilson Sommer, Committee Member – 401-864-8424
Jon Bixby, Committee Member – 401-742-8918
Ryan Olynack, Junior Sailing Director – 401-626-1982
OFFSHORE COMMITTEE
For the Bermuda One-Two, if possible would slip owners please leave their slips open for the week ending 4 June for the boats coming in leading up to the start on 4 June.  Also if you have a mooring that you would be willing to let a Bermuda One-Two boat stay on during the same period leading up to the start and maybe the return would you please contact me with the mooring number and boat capacity.  Thank you.
Roy Guay Chair, Offshore Committee  offshore@newportyachtclub.org
MEMORIAL BOAT PARADE REMINDER
The Memorial Boat Parade to honor those lost in the past year will be held on June 6.
For more information or to register for the parade visit HERE