DATES TO REMEMBER
April
Watch for Club announcements
May
1 May — Tuesday night racing registration opens
8 May  — General Membership Meeting 10 a.m. in person at NYC
22 May — Rain date for General Membership Meeting
COMMODORE'S CORNER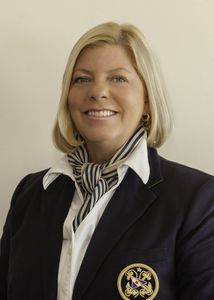 Greetings fellow Newport Yacht Club Members.
I am pleased to announce, after consulting with the State of RI and confirming with the Department of Environmental Management, our ability to hold an outdoor, in person, May General Membership Meeting on Saturday May 8 @ 10:00 a.m. The rain date is May 22, 10:00 a.m.  This is considered a "Venue of Assembly", not a "Social Gathering".  Please be seated in one of the available seats, wear a mask, and refrain from gathering when not seated.   You will be required to check in, as we do for indoor meetings. Eligible voting members will receive a ballot to be used for the election of our Nominating Committee.  This meeting will include the second consecutive reading of the proposed bylaw changes for your approval.  We will also be presented with the final figures for our 2020 fiscal year that will determine how much we will be able to set aside for the early payoff of the dock loan. 
Past Commodore Bailey announced the postponement of the Ostar Race to 2022. Commodore Bailey spent many hours on the phone with the State of RI to have the event approved but, due to ongoing potential international quarantine restrictions, and no crystal ball, he was not rewarded with a firm answer.  Though disappointing, the event will now take place on an alternate year from the Bermuda 1-2, allowing the Club more space for racers, from both events, in our marina.  Thank you Norm for your efforts.
The Boat Parade in Remembrance of those we have lost has changed dates again.  The new date is Sunday, June 6th at 5:30.  I will keep you updated as we draw closer to the event.  
I look forward to seeing all of you on the 8th and am hoping for a sunny, calm day.  We will need a  quorum of 52 so your attendance, as always, will be greatly appreciated.
Betsy Green
Commodore
Newport Yacht Club
JUNIOR SAILING SPONSORSHIP OPPORTUNITY
The Junior Sailing Marine Adventure Camp is just about full, with only five spots remaining in Session 1 and a waitlist for Sessions 2, 3, & 4.  This is a big change from last year when COVID forced our camp to operate at reduced capacity. 
This year, we are providing scholarships to 10 Newport youths who have never sailed before through a generous donation from a RI fund.  The young sailors are students of City of Newport Elementary Schools and Thompson Middle School.  In addition, we are providing 10 more scholarships to youths who have participated in the program before, allowing them to further hone their sailing skills.  All scholarships are based on financial need.  We are very proud to be able to give back to our community. 
YOUR HELP IS NEEDED. To provide scholarships and maintain our fleet requires money. COVID especially has pushed us outside of the box for raising funds to support our special program. Here's where you come in. We have great BOAT NAMING opportunities for you or your business.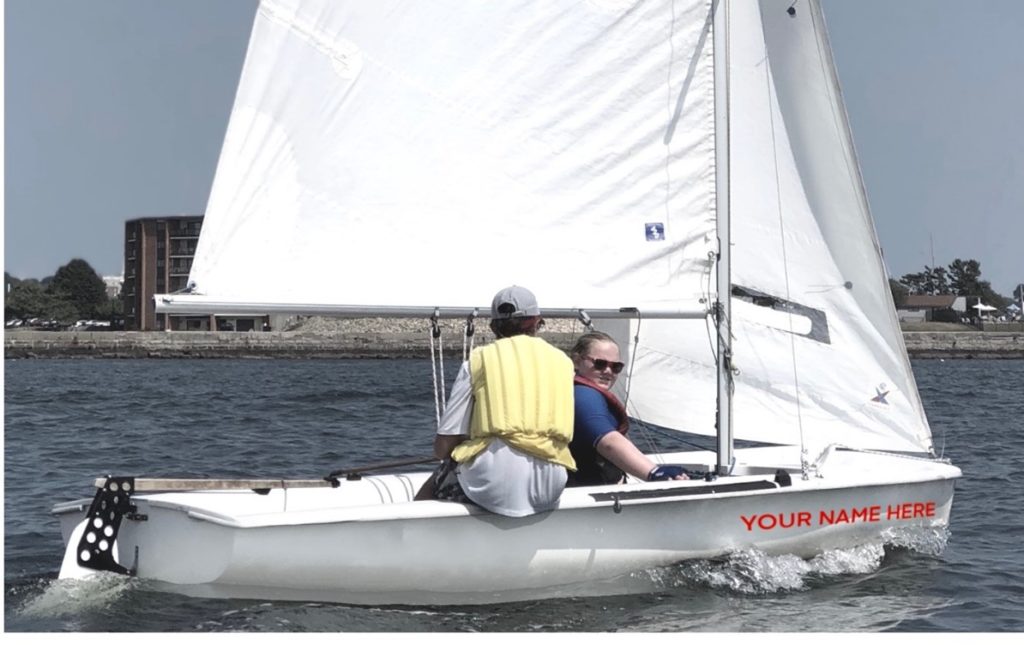 Junior Sailing is offering an opportunity to place a name on a Junior Sailing Boat for the 2021 sailing season.  It could be your name, your spouse or other's name, your Mom or Dad's name, your child, your grandchild, your pet, your business. . . your choice.  The name would be displayed on the hull of the boat and visible as the boats traverse Newport Harbor and Narragansett Bay from Mid-June to Mid-August.  Your $500 sponsorship would be used to support the Junior Sailing program for things such as new boats, scholarships, boat maintenance, sailing equipment or a variety of other needs to keep the program running safely. Please join in, and also ask friends or business owners whom you know!
We have a limited number of boats so don't wait!  Contact one of the Junior Sailing Committee members or Ryan Olynack, Junior Sailing Director to learn more and claim your name on one of the Fleet!
Michael Barszcz, Program Chair – 609-553-7258   mbarszcz@aol.com
Kate Wilson Sommer, Committee Member – 401-864-8424
Jon Bixby, Committee Member – 401-742-8918
Ryan Olynack, Junior Sailing Director – 401-626-1982
FLOAT AND DOCK DAY THANKS!
Many hands make light work, and so it goes with Dock Day. A great crew of hard-working Dock Day volunteers readied the Club for the 2021 season. All the docks and ramps are in place, repairs made and new safety ladders installed around the marina. The Float and Dock Committee extends great thanks to all the members and staff who made Dock Day 2021 a success!
With thanks,
Steve Damas, Chair on behalf of the entire Float and Dock Committee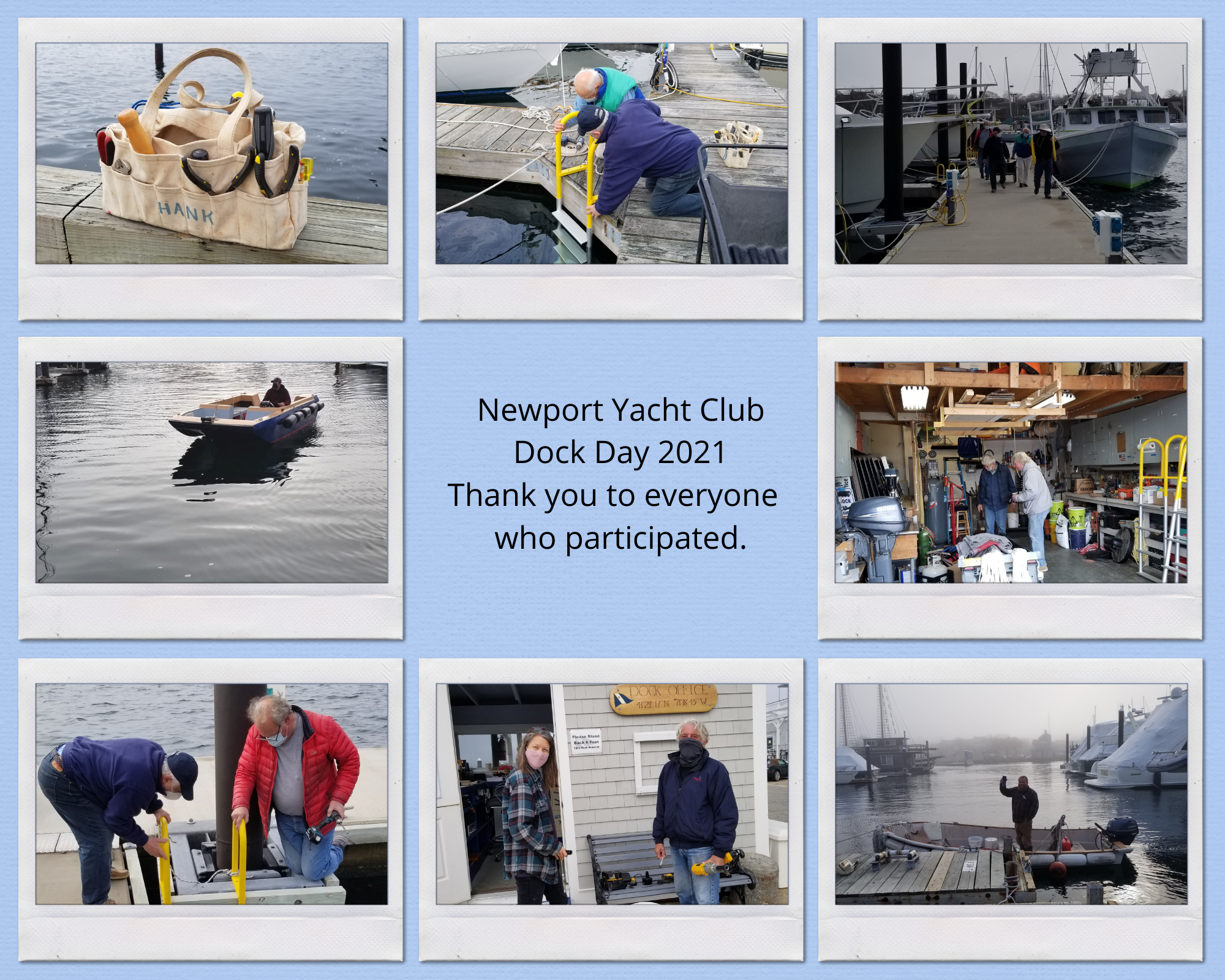 YOUR PICTURE PLEASE!
The Communications Committee requests that you add your personal picture to the members-only Member Directory if you haven't already.  Just log in and open your member profile and upload a picture from your laptop or mobile. Formal or informal pics of you are welcome. It does seem pics taken onboard or near boats put a special smile on people's faces…just a suggestion. If you need uploading help, email communications@newportyachtclub.org
Mark Marosits Chair, Communications Committee
REGATTA COMMITTEE
First, we wish to send a special thanks to Nancy Parrillo for her dedicated and expert leadership of the Committee over the last few years.  Although Nancy has had to step away for this season, she will continue to be our inspiration, guide and good friend!
With spring here and summer fast approaching, the Regatta Committee looks forward to running a great Tuesday/Wednesday night 2021 racing season! Although COVID remains with us, we plan to return to our pre-COVID schedule running two race series for the one-designs on Tuesday evenings and for PHRF – Cruising classes on Wednesdays.  Series I will start on Tuesday, June 1 and finish on Wednesday July 14.  Series II will start Tuesday, July 20 and finish on Wednesday, September 1.  Tuesday night one-design includes J22s, Ensigns, and S Boats.  Wednesday night PHRF-Cruising class is open to all yachts with a PHRF rating, multi-hulls, J22s, and Ensigns.
The Notice of Race and Sailing Instructions will be posted on the Club website and registration will open no later than May 1, 2021.  We'll also be reaching out for Race Committee volunteers over the next few weeks to begin setting up the Volunteer Race Committee schedule using COVID policies similar to last summer.
We hope you all are well and safe and look forward to a great summer.
Alan Renfrew, on behalf of the Regatta Committee
ADDITIONAL REGATTA EVENTS
Ladies Cup Regatta
The Rhode Island Yacht Club is bringing back the LADIES CUP REGATTA. This long-standing regatta began in 1898 to celebrate the competitive spirit of women sailors on Narragansett Bay. The race itself is accompanied by a pre-race breakfast and a competitors and spectators cookout and awards ceremony afterward. All boats shall be helmed and skippered by a female, and crews must be not less than 50% female. The event is Saturday, June 26, 2021 at  Rhode Island Yacht Club. More information at Notice of Race, Application and Sailing Instructions
Round the Bay Regatta
Billed as "the first regatta that starts and finishes in every sailor's back yard!" NBYA in cooperation with Barrington, Bristol, East Greenwich, Ida Lewis and Wickford Yacht Clubs, presents this new race on July 24 with an innovative format. The race will start simultaneously from four points, near Barrington/Bristol, East Greenwich, Newport and Wickford. You finish where you started after sailing through all the starting areas on this 32 mile CRAZY EIGHT course (or one of two 18 mile courses) This event supports Save the Bay. More at https://nbya.org/round-the-bay/