DATES TO REMEMBER
December
Please consult Club calendar
January
January 1 — Registration for the Bermuda One-Two opens online
COMMODORE'S CORNER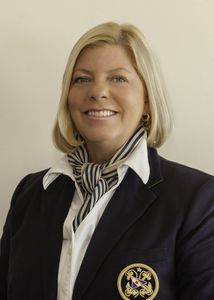 Season's Greetings!
Thank you for your thoughtful questions and input for our 2021 Budget.  The question and answer and review and voting periods have concluded.  166 of you voted in favor of approval, one, not to approve.  The ayes have it!  This enables us to move forward into 2021 with a working budget.   A lot of work went into this budget, by each Committee Chair, but special thanks are in order to Steve Dolan and the Finance Committee who provided us with a fair, conservative and balanced Budget.       
The news on the virus continues to be a concern country and worldwide. NYC is balancing safety concerns while continuing to offer our members a secure and structured environment to gather.  Newport Yacht Club remains open with dining at 33% capacity during the "Pause".   The Main Deck has been rearranged, by our dedicated staff, to maximize safety and follow the one household dining guidelines set out by our Governor.  Please do not move tables or chairs which may violate the six foot table distancing.  Festive lighting, small plate selections and creative seasonal beverages make a visit to the Club something that will lift your spirits!  I know they have mine.  Please stop down should you and your household feel comfortable doing so. 
Wishing you and your families Happy Holidays, peace, and a healthy, hopeful New Year. 
Betsy Green
Commodore
Newport Yacht Club
REMEMBERING TIM MILLS
The Newport Yacht Club joins Newport's nautical community in remembering Tim Mills in fondness and gratitude for his dedication, leadership and great spirit as our Harbormaster and friend. Our thoughts are with his family as they mourn his passing.
NEWPORT YACHT CLUB WINS BOATERS' CHOICE AWARD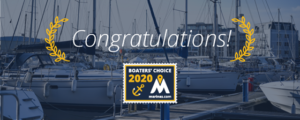 The boaters have spoken! For the second time, NYC is a Boaters' Choice Award Winner! This means we have consistently received outstanding reviews from Marinas.com boaters. So much so, we are in the top 3% highest-rated marinas in the United States.  Thanks to everyone who makes the Newport Yacht Club experience OUTSTANDING!
FLOAT AND DOCK COMMITTEE
The Float & Dock Committee is completing the slip assignment process. We are having the largest turnover in slips I have seen in my 18 years as a member.  We had 44 people on the wait list. Available slips have now been assigned.
Merry Christmas and Happy New Year and be well.
Steve Damas Chair, Bob Morin, Roger Hemond, Frank Pearson III, David Stewart, Peter Herne, Andy Vouras
OFFSHORE COMMITTEE
Registration for the Bermuda One-Two opens online on 1 January 2020.
Roy Guay, Chair
FROSTBITE COMMITTEE
Registration for the upcoming 2021 Frostbite Season is open. 
If you have experience with sailing small boats and a compulsion to race Turnabouts in Newport Harbor between January to April, then you are encouraged to sign up.  NYC members will have first priority of getting a spot beginning 4 through 9 December.  
Information on Frostbite Sailing can be found on the Club website under the Sailing tab and you can contact the Chairman of the Frostbite Committee at frostbite@newportyachtclub.org for any questions.
F.J.  Ritt, Chair
---
Thank you for reading. Our best wishes to all for a safe and healthy on-water season!
---
---
---
---
---
If you have something you'd like to share with the Club membership in the Burgee, please send your submission to: communications@newportyachtclub.org for review and consideration.   
---
---
NEWPORT YACHT CLUB WIFI
| | | |
| --- | --- | --- |
| Newport Yacht Club Guest | No Password | Inside the club and marina |
| Newport Yacht Club | Password | Inside the club and marina |