DATES TO REMEMBER
September
17 Voting for Members At Large opens 
23 Last day of voting for Members At Large
Please see Club messages regarding other events 
October
October 1 New Commodore announces Board Chairs and Members At Large
Watch for announcements regarding additional October dates
COMMODORE'S CORNER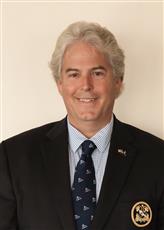 Fellow shipmates,
My time as Commodore of this most excellent institution is coming to an end at the close of this month. It is with a great sense of fulfillment that I look back on my service to the Club and all that has been accomplished. I am honored to have worked with several Boards of Directors and the Club Staff to collaboratively achieve significant and sustained improvements to our operations. We have a strong focus on the NYC Mission, a greater sense of fiduciary responsibility among board members, deeper understanding of the timing of our revenue and expense projections, and a profound sense of respect and camaraderie within the board. All of this has contributed to what I believe you will agree to be a period of exceptional growth in our ability to lead this Club with great programming, strong finances, and improved member satisfaction.
Last year, the Club celebrated its 125th Anniversary with a gala affair held at Ochre Court where over 200 members and guests enjoyed a wonderful evening of dining and dancing – this was a truly historic event. As part of that effort, a 125th Anniversary book was written and professionally produced that traces the Club's history with robust photographic and textual content. Countless hours went into this book and the result is a keepsake that will be around for many years. If you have not seen this yet, a few copies are still available for purchase in the Lounge.
Another notable achievement is the development of a comprehensive Strategic Plan for the Newport Yacht Club looking forward for the next 10 years. We have codified the maintenance and update of this plan in our By-laws so that it will always be current and relevant. This Plan has brought about many positive things for the Club including:
The first ever generation of a NYC Vision/Mission/Values statement.
A focused effort to manage our growth rate to maintain member satisfaction.
Enhancements to our programmatic offerings with innovative solutions.
Improved and streamlined communications so all members are kept informed.
Stronger and broader community relations both locally and internationally.
Comprehensive By-law changes needed to keep our Club relevant with today's environment.
A lasting focus on continuous improvement in all that we do.
This year, COVID-19 dealt a major blow to the Newport Yacht Club and its membership which threatened our ability to remain open and solvent. I am convinced that the effort put into the early development of our COVID-19 Control Plan and its weekly updates has enabled us to incrementally reopen additional parts of the Club in response to revised guidance from State officials. This, in addition to our rapid assessment and control of our finances back in March has positioned the Club to be able to offer as close to normal a season as possible. This was achieved while adjusting for the significant financial impact caused by the labor intensive efforts necessary to remain compliant with all RI Department of Health and RI Department of Business Regulation requirements. The Board of Directors has maintained laser focus on Club finances and is making the difficult decisions necessary in order to follow through on the commitment made to membership to establish and annually fund an interest bearing account that will be used to pay off the East-West dock loan in 2024. This will save each voting member a total of $1000 ($350 for Young Adults) as a result of paying the loan off 10 years early. Every month this requires a critical review of all aspects of our operations and making the requisite adjustments to balance compliance with the continually changing COVID-19 requirements against the resultant impact to member services and Club finances.
You should be proud to be a member of the Newport Yacht Club. Its leadership and staff work seamlessly together and as a result, we are a well-respected, professionally run organization. I believe there is every reason to expect more great things with the coming change of command. Please give the incoming Board your thoughts, inputs, time, and suggestions. Member feedback is vital for leadership to hear and I thank you for your inputs over the past two years.
My watch is nearly over and on 1 October I will stand relieved. At that date, the Club will transition to a new leadership team. Thank you all. I cannot think of a better place to be than as a member of the Newport Yacht Club.
Wishing you fair winds and following seas,
Tom Rowe, Commodore
Newport Yacht Club
Member At Large Voting Reminder
Pursuant to prior notices to Club members, the voting period will begin on September 17 and close on September 23. The following is the voting information as published:
During the period of Thursday 17 September to Wednesday 23 September, all voting members can come to the club to vote in the customary way: by verification of voting eligibility (i.e. a voting member, and only one vote), filling out a paper ballot vote for the four MALs, and depositing said vote into the locked voting box. One of the three current Flag Officers will be present at designated times (see below) to oversee this voting process so that members wishing to do so will have a chance to vote. The list of all confirmed names submitted for consideration as a Member at Large will be available.
Voting will take place on the Main Deck on the following days/times. Please note that only voting members are eligible to vote:
1615 – 1730 hrs Thursday 9/17
1615 – 1730 hrs Friday 9/18
1100 – 1300 hrs Saturday 9/19
1100 – 1300 hrs Sunday 9/20
1615 – 1730 hrs Monday 9/21
1615 – 1730 hrs Tuesday 9/22
1615 – 1730 hrs Wednesday 9/23
Thank you. Please exercise your right to vote!
FINANCE COMMITTEE
This is my last Finance Report because Steve Dolan will be taking over as chair of the Finance Committee. I will continue to serve on the Finance Committee.
First off I would like to thank Tom Rowe for his leadership during my tenure. His guidance has brought more structure and systems into the club culture which, as it turned out, was of great value in navigating the treacherous waters of CV-19. These systems and structure will also serve us well in the years to come to ensure fiscal accountability to all members.
Regarding finance, we have accomplished two key items over the last 24 months:
Forecast- each committee chair now forecasts every line item in their budget by month for the coming year. This is important because we can now more accurately monitor the club's actual performance against budget on a monthly basis.
Dashboard- the forecast model above has allowed us to create a dashboard so that fiscal performance can be more easily tracked by all board members. This is still being fine-tuned, but we expect it to be fully operational for the 2021 fiscal year.
The impact of CV-19 continues to plague the club fiscally. While cutbacks have been made, there is a minimum level we must operate at in order to deliver the services that members expect. Non-member transient income along with income from both food and liquor are off significantly because members are not using the club as much.
We will be looking at the last 5 months (September – December) to see where we might cut more costs in an attempt to meet this year's net income goals. You all may recall that the budget calls for us to set aside $73K in each of the next 4 years so that we can pay off the note for the East/West dock in 2023. The impact of CV-19 may put that in jeopardy.
I have enjoyed serving all of you as Finance Chair. Thank you for all your support!
Larry Girouard, Chair Finance Committee
NYC Marine Adventure Camp 2020
The Newport Yacht Club Marine Adventure Camp (MAC) successfully concluded its 2020 camp season with 4 two-week sessions.  The Camp was a resounding success providing over 90 kids an opportunity to get outside with their peers enjoying what our local town and waterfront has to offer.  This was especially important this summer for the youths and greatly appreciated by the parents.  We were able to open with new COVID-19 safety policies and procedures in place complying with all State of RI guidelines and complete compliance from the kids, parents, and Newport Yacht Club staff. The camp filled to 100% with a waiting list the day we announced we would be running the summer program. Proudly, we were able to offer full scholarships to 10% of the campers thanks to donations from members and organizations. Thankfully, there were NO cases of COVID with the kids or staff.
The Camp was approved with unanimous support from the Board and was a collaborative effort between the Club Steward and the MAC Staff. Additionally, the Club made a strong statement to the community regarding our commitment and support for the youths of our community. Supporting sailing programs for area youths is core to our mission and we all should be proud that our Club stepped up and was able to provide the Marine Adventure Camp this year.
While fees and scholarship provide much of the funding for the Camp, the fleet is aging, repairs and replacements are ongoing. If you would like to make a donation to support the MAC program, please contact Michael Barszcz mbarszcz@aol.com
Michael Barszcz, Chair Junior Activities Committee
BYLAW REVIEW COMMITTEE
During the past year a review of the clubs by laws was conducted by the Review Committee. At our January General Membership meeting, the first reading of the proposed changes occurred. Due to the pandemic a second reading has not taken place. Our goal is to have a second reading per our bylaws at our next General Membership meeting, whenever that is possible. Many thanks to our committee members-Bob Anton, Jack Grant and Mike O'Reilly for their hours of work on this review.
Bob Antignano, Rear Commodore on behalf of the Bylaw Review Committee
FLOAT AND DOCK COMMITTEE
I have two quick notes this month. A number of members have asked about how the collection of past due slip fees is working out. Of the $25,065 owed the Club all but $2,800 has been paid as of September 2, 2020. I have not reason to believe that the remainder we be paid in due time.
And, the Winter slip list is open for members. As is always the case, the Winter season begins on November 1t and ends on April 30.
Steve Damas, Chair Float and Dock Committee
OFFSHORE COMMITTEE
During this "interesting year" we canceled two races (the Mitchell Memorial and Columbus Regattas) and ran two races (Offshore 160 and New England Solo/Twin) with record attendance in both. We are working on the Notice of Race for the 2021 Bermuda One-Two to be ready in November. We are hoping to be able to run the race next year.
Roy Guay, Chair Offshore Committee
---
---
Thank you for reading. Our best wishes to all for a safe and healthy on-water season!
---
---
---
---
---
If you have something you'd like to share with the Club membership in the Burgee, please send your submission to: communications@newportyachtclub.org for review and consideration.
---
---
NEWPORT YACHT CLUB WIFI
| | | |
| --- | --- | --- |
| Newport Yacht Club Guest | No Password | Inside the club and marina |
| Newport Yacht Club | Password | Inside the club and marina |