DATES TO REMEMBER
November
2 – Dock Day
2 – Bermuda One-Two Skipper's Shore Party
16 – Italian Feast
29 – Parade of Lights (Santa arrives at 1 PM)
COMMODORE'S CORNER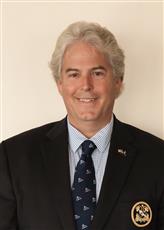 Greetings! On October 12th, the Newport Yacht Club hosted Newport Sister City Imperia, Italy. Along with Mayor Bova and members of the City Council, the President of the Imperia Yacht Club and several members of the Imperia City Leadership team joined members of the NYC Board of Directors in a Twinning Ceremony whereby the complementary missions of each yacht club were discussed and celebrated. This was a great event and was warmly received by the City Council and the delegation from Imperia. These types of engagements serve to further highlight the important role that we play in the harbor and with the City of Newport.
Twinning Ceremony

Imperia City Leadership team joined members of the NYC Board of Directors
The new Board of Directors has met and begun the process of leading this Club into the next fiscal year. The goals I have put forth for the Club this year are listed below and apply to all members of the board. It is important that we, as a cohesive Board of Directors, work together to achieve the greatest outcome possible for the benefit of all members. I will report further on these as the year progresses.
1. To continue to exercise conservative fiscal policy to increase cash reserves, control expenses, and drive increased revenues
2. Improve respect and consideration shown to/by members to visitors of the Club. There have been too many instances where uncomfortable situations have been created by how people behave.
3. Achieve approval of the revised bylaws.
The agenda for the December General Membership meeting is as follows:
Approval of the minutes from the October General Membership Meeting
Board of Director reports
Approval of the 2020 budget
First reading of revised bylaws
This meeting is important and I ask you to attend if possible and take advantage of the opportunity to learn what has been accomplished in 2019 and what is to come in 2020. I will do what I can to make it as efficient and productive as possible. In that light, I remind all would-be attendees that the Club operates under Roberts Rules of Order (RROR) per our bylaws. A point to keep in mind: RROR stipulates you must be recognized by the Chair to speak and that once someone has been recognized by the chair, he/she has the floor and will be heard. Once done speaking, that same individual will not have another opportunity to speak on the same subject until all other members wishing to do so have been heard. It is not a matter of how long your hand has been raised but rather the imperative to be fair and allow all who wish to speak are afforded the opportunity to do so.
I look forward to seeing you around the Club in the weeks to come.
Wishing you fair winds and following seas,
Tom Rowe, Commodore
Newport Yacht Club

REAR COMMODORE
At our next General Membership meeting on December 5th, 2019 the bylaws review committee will be proposing changes to our bylaws. The review committee members were Bob Antignano-chair, Bob Anton, Jack Grant and Mike O'Reilly. The committee has been meeting regularly for the past year and has developed these changes based on a thorough review of our existing bylaws, suggested changes and additions from club members, review and comments by our board of directors and additional member suggestions made at the informational meeting held on October 23, 2019.
The review committee is proposing these changes based on the following:
We are a private member club which means we pay for the privilege of membership. Therefore, we would like to see as many benefits from membership received by as many members as possible.
We have limited physical space. Therefore, we must manage this.
We want to create some flexibility in the bylaws without reducing the voice of the membership. The flexibility envisioned is subject to board review and approval so as to prevent anyone committee from exerting undue influence or change without oversight. Plus members at large would represent members' interests.
We want to clarify and or correct the text of the bylaws.
Based on the above assumptions we are proposing the following changes:
Article X Section 1 – Dues and Initiation Fees
The increase of a late fee penalty to 20% of current dues from the existing 10% is reflective of the effort that is expended by the office staff in processing the late fee penalties. It is also intended to be an incentive for members to pay on time. THE NUMBER REPEAT OFFENDERS is 20 to 30 per year on average.
Article XI Section 1 – Assessments
Removal of the specification within the Bylaw of the current limit of 35% on assessments for Young Adult members would allow for the board of directors to set the assessment rate at an appropriate level based on current economic conditions and other factors. Importantly, the General Membership would approve (or amend) the Young Adult assessment level recommended by the board at the December General Membership Budget meeting. Having a percentage specified in the Bylaws gives no flexibility. This would apply to future assessments if any.
Article XII Section 18-Offshore Racing Committee
Will now include International racing which includes but not limited to-OSTAR, TWOSTAR and Jester trans-Atlantic races. We gave the name "international" in case we ever wanted to include Canada as a possible destination.
This simply changes title to General Manager
Article XVI Section 1 – Guests.
Guest privileges to be codified within House Committee rules and regulations.
Article XVI Section 3 – Guests.
Privileges of non-family member spouses were deleted out of a sense of fairness to family member spouses who pay the membership dues annually. This change means that non-family member spouses cannot utilize the club without their member spouse present.
It is of the utmost importance that you attend this meeting. We must have a quorum in order to vote on the bylaws and the budget.
I would like to thank our committee members for their hard work on this project as well as to all the members who brought forth their additions and changes.
Bob
---
---
BE A PART OF CLUB HISTORY!
No doubt you have enjoyed the 125 years of Club history found on our walls. From sailing trophies to historic artwork and other memorabilia, our story is on display. Yet, do we know the story behind the story? What items do we have, what is their origin, why are they important? Thankfully Bea Grimmitt has recently stepped forward to serve as Club Historian. Her first task is taking an inventory and cataloging our collection of Club treasures. It's no small task. And that's where you come in. Help is needed for creating our historic archives. If you are interested in lending a hand to research and catalog the collection, please email commodore@newportyachtclub.org. You will join Bea in playing a very important role in preserving our Club's unique history.
Anyone interested in participating in this important work please email commodore@newportyachtclub.org.
---
CLEAR POLICY ON INTER-CLUB RECIPROCITY
Reciprocity is a collaboration among yacht clubs to extend certain privileges and benefits to members of participating clubs. Participating is the key word. The Newport Yacht Club participates in the Register of American Yacht Clubs reciprocity program. We are the only Newport-area member of this program. Ida, NYYC and Coasters are not in the network. A link to the directory is posted on the Club website and on the bulletin board. Privileges and benefits are extended only to members of participating clubs, and upon presentation of valid membership credentials. Due to the very high demand on our Club's facilities, this policy will be strictly enforced. Club members may continue to invite guests and accompany them to our Club whether or not their guests are members of another club. Please make note of house rules on guests, including our sign-in requirement.
---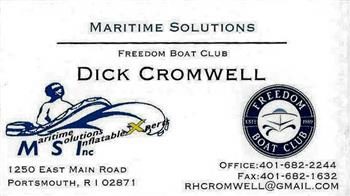 ---
ENTERTAINMENT COMMITTEE
The Feast with the Flag is November 16th, starting at 1800 hrs (6 pm). Come enjoy a casual Italian meal made to order just for you by your Flag officers. See details and sign up online.

The Children's Santa Visit will be on Friday, November 29th at 1300 hrs (1 pm) when Santa arrives by boat and reads one of his favorite stories: "The Polar Express". Photos will be taken by Bill Shea. Come on down with family and friends to share in this holiday excitement.
Again this year, the Newport Yacht Club will be hosting the judging for the Parade of Lights on Friday, November 29th at 1800 hrs (6 pm). Our Club is an awesome spot for viewing and the Main Deck is open to the public. Access to the lounge will be restricted to members only (no guests) for this event.
'Tis the Season to Eat, Drink and be Merry. The Adult Holiday Cocktail Party is on Saturday, December 7th from 1730 – 2030 hrs (5:30 – 8:30 pm). Come and enjoy holiday music and small plate serving stations prepared by Chef Charlene. Wear festive attire and bring your holiday spirit. Sign up online. Ho-Ho-Ho
Respectfully submitted,
Entertainment
---
---
FLOAT & DOCK COMMITTEE
The 2019 Summer slip season is gone and the 2019-2020 Winter slip season has begun.
2019 Dock Day has come and gone. Thank you to all of our loyal Dock Day volunteers, once again. All of you are great! You make a very laborious job easy.
The plans this Winter are to rebuild the South West docks and replace the pile brackets with ones of our design that make installation and remove much easier than the old brackets.
We have a design in the works for a bracket that will reduce the twisting movement of the longer dock fingers. This reduction in movement will do two things: One is to make walking on the dock safer and second is to reduce the stress on the dock structure so as to extend the life of the dock.
We plan the first pair of them ready for installation either before or on the Spring Dock Day and if they work to our expectations, we will have more made and use them where appropriate.
Please, check the Winter Marina Requirements in Appendix B of the F&D R&Rs on our web site for the excepted way of securing your boat over the Winter in our marina.
Enjoy the Winter, or at least try.
Steve Damas, Chair
Bob Morin
Roger Hemond
Frank Pearson III
David Stewart
---
---
REGATTA COMMITTEE
Hi everybody!!
Well, the season is over!! We capped off the season with the Summer Series Awards Party on October 26th at the club. We had a great turnout!! It was fun to see both sailors and race committee volunteers mingling and socializing! Now the work begins for next season!
For those of you that are race committee volunteers – be on the lookout for announcements for the one-day USSailing seminar on race management. This class will count towards certification should you choose to pursue that.
For those of you who were not aware, Sail Newport has established a new lecture series honoring our very own Dr. Charles "Charlie" Shoemaker. For those of you who don't know Charlie's history, he has been sailing in Newport for the past 50 years. He has won dozens of regattas on his Ensign "Challenger" and his Shields "Hawk". He also competes in the Newport Yacht Club One-Design and PHRF Summer Series, as well as our frostbiting program. The series will cover a variety of marine-related topics. For more information visit the Sail Newport website for details. Let's get out and honor Charlie's legacy to the sport by attending and supporting this program!!
From the Regatta Committee and the numerous volunteers of the Race Committee, I want to wish everybody a happy and healthy Thanksgiving!
Best -Nancy Parrillo, Chair Regatta Committee
Alan Renfrew
Al McCoy
Tom Pederson
Lee Parks
---
OFFSHORE COMMITTEE
On 2 November, 40 people attended the Skipper's Shore Party at the Newport Yacht Club. One of the Bermuda One-Two skippers Phil Haydon, Ph.D., is both a neuroscientist who studies the regulation of sleep and a solo offshore sailor.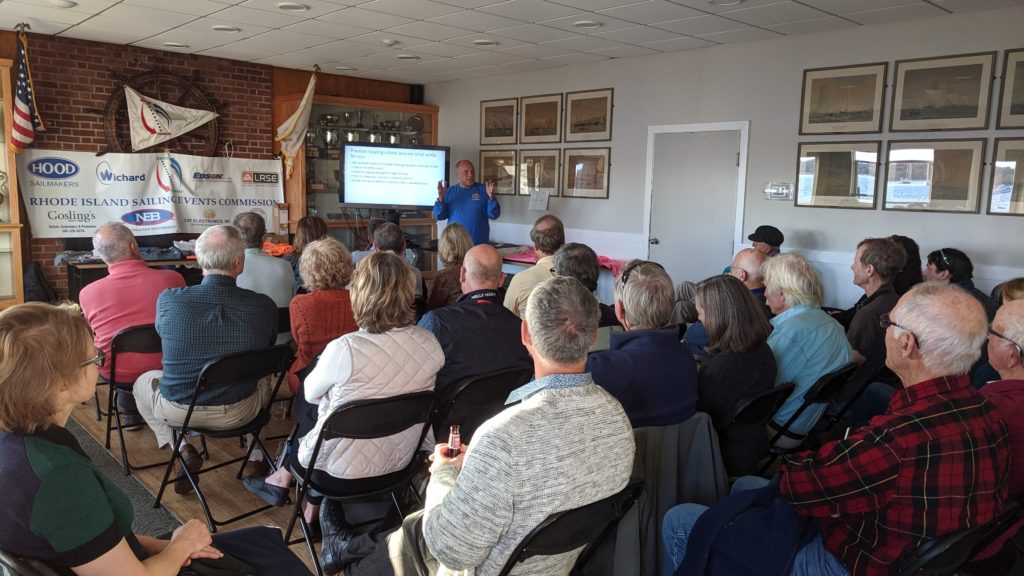 He has integrated his scientific knowledge with sources of information provided by others to develop his own "checklist" to follow when racing offshore. He shared this information with us in the hope that it will be helpful to other sailors and prevent them from making errors, that can be serious, after prolonged periods of sleep deprivation.
Of course, the brief was followed by plenty of gab and food provided by Caryn Cummings, Cathy Singsen, Jody Sullivan and Diane Guillemette.
Roy Guay – Chair
Ted Singsen
Kristen Wenzel
Betsy McClintock
Pat Clayton
Caryn Cummings
Brian Clayton
George Crocker

---
If you have something you'd like to share with the Club membership in the Burgee, please send your submission to: communications@newportyachtclub.org for review and consideration.
---
---
NEWPORT YACHT CLUB WIFI
| | | |
| --- | --- | --- |
| Newport Yacht Club Guest | No Password | Inside the club and marina |
| Newport Yacht Club | Password | Inside the club and marina |